The DC Design House is finally open for tours in the month of October. We are thrilled to showcase our modern Parisian dining room. Let me give you a few insider tips and insights into this years room.
Inspiration: Every room starts with an inspiration and mine was our new Roux metallic grasscloth. It is a pattern that has been looked over. It's one of my favorites and worked perfectly within the existing moldings. Taken from a lace pattern in a dress this gives the room the pattern and style.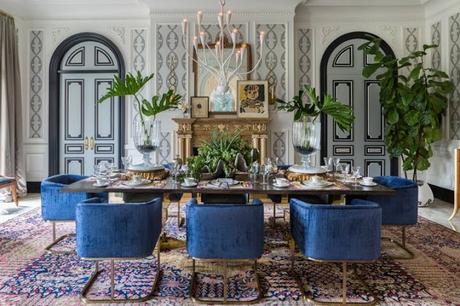 Mixing Styles: We are all about "Living the Mix" at Bridget Beari. Mixing styles, mixing high and low, mixing antiques with modern piece and we did that in this room. Chairs from The Mine slipcovered in Osborne and Little blue strie velvet. A stunning early 1900's antique rug mixed with a mid century inspired cerused oak table. Contemporary photography with vintage 1950's portraits.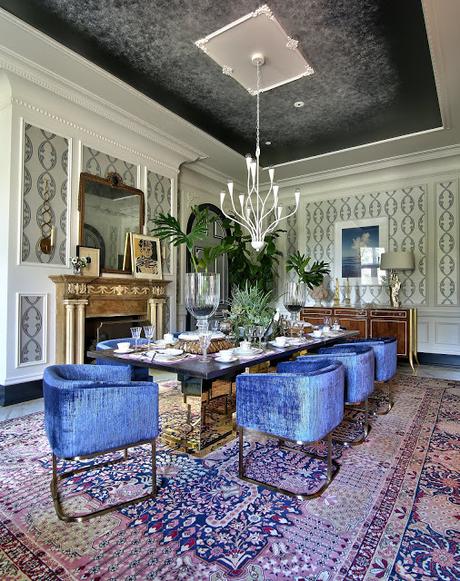 Adding organic elements for softness: Succulents in the antique clam shell and large Philodendron leaves soften the formal dining place settings. 
Accenting with Black: I love black baseboards to set off a room but adding the grey/black accented panels took it to another level. Sleek, sophisticated and bold in choice. Topped off with a ombre black/grey smokey ceiling treatment for a more intimate feeling.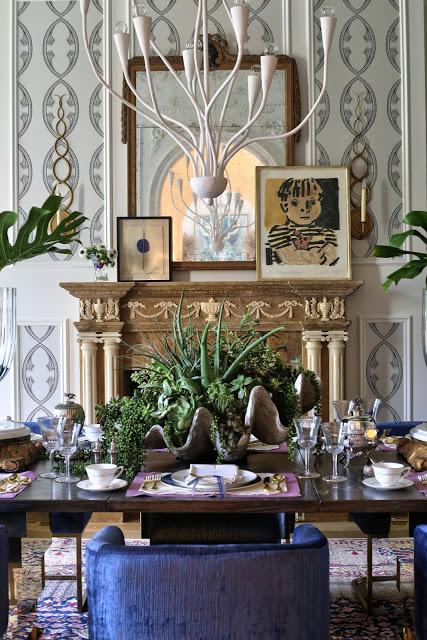 Mixing Art: Modern photography with antique busts. The perfect juxtaposition of style but reminds you of well collected home where the owner has added things throughout the years. Each item full of memories of the purchase or an event.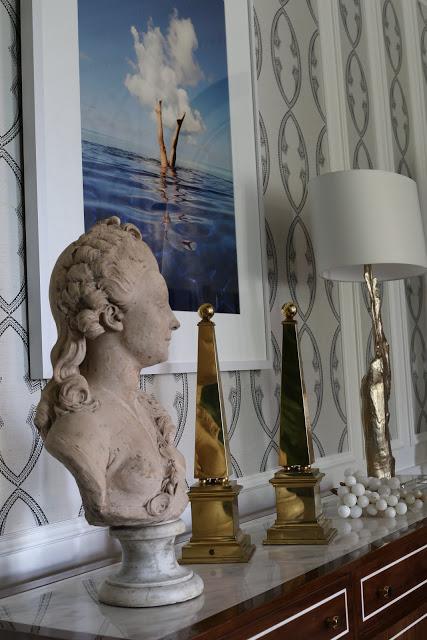 Organic plaster chandelier from Julie Neil lighting changes the whole formality of the room. It has a whimsical feel.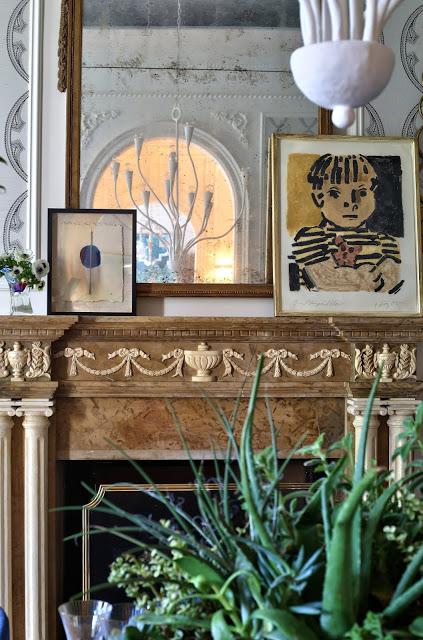 Layering Art: Not all art needs to hang. Try leaning items. This makes it easy to change and adds a causal element to the room.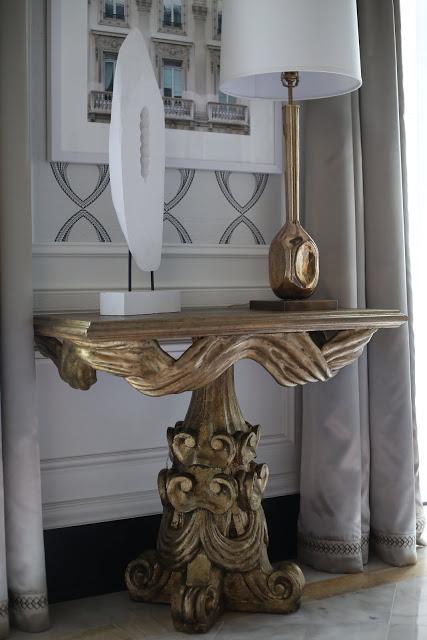 Plaster, gilded, cerused, brass, terracotta, marble, plaster, concrete: Mixing materials for interest and flavor. 
Setting the table: Mix it up! Use different patterns layered on one another. You can even layer the placemats for color. 
I custom designed many of the pieces in this room: Wallpaper- metallic grasscloth call Roux-bling bling, the dining table- cerused wood top and brass tiered bass, and the consoles - geometric bases.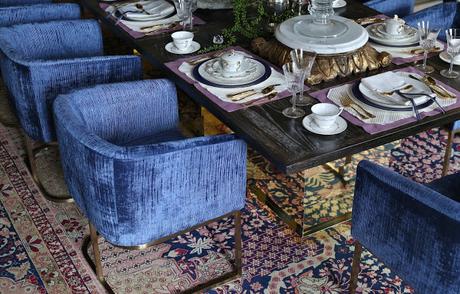 Formal dining but causal, fun and inviting. The perfect setting for a fabulous dinner party! 
Everything in the room is for sale. All furniture and ticket sales benefit Children's National Hospital in the Washington DC area. It is a great cause and we love participating even though driving 95 is a bear!