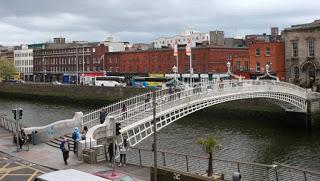 On a short visit to Dublin a few years ago, I was fascinated by the Ha'penny Bridge over the River Liffey. It is cute and pretty and looks like something from Fairyland. It was built in 1816, a cast iron pedestrian bridge to replace the boats which ferried people across the river. The proper name is the Liffey Bridge. When it opened, the toll was a halfpenny. I believe it is free these days, but the name Ha'penny has stuck. Unfortunately, I didn't set foot upon it, as much as I hoped to. Dashing from one thing to another, we crossed the river on O'Connell Bridge nearby. I loved what I saw of Dublin and another, longer visit would be very welcome – on my retirement bucket list.
  Another bridge I haven't set foot upon, not yet, is the Iron Bridge at the village of the same name near Telford. Apart from Shrewsbury, where we've had mini breaks to go to events at Theatre Severn, I don't know Shropshire very well. With family members recently taking up residence there, I'm looking at places to stay and places of interest. The Iron Bridge, over the River Severn opened in 1781 and was the first major bridge in the world to be constructed of cast iron. It is most definitely a place of interest to me.
  These bridges are linked and not just by 18
th
-19
th
century technology. They were both built at iron works in Coalbrookdale, Shropshire. The eighteen sections of cast iron ribs which make the Ha'penny Bridge were shipped from Shropshire to Dublin. The five ribs that make the Iron Bridge were carried down the road.
  My poem,
  River Liffey, dancing and singing,    Let me join in your songs.
   Tuneful melody, joy it's bringing,
   Through Dublin it belongs.
   Watch from the bridge, the water flows fast,
   Cheerfully rippling through,
   So clap with the chorus running past
   In shades of green and blue.  
River Severn is quiet today,    Raging torrents now calm
   As the mighty storm has blown away
   And nothing came to harm.
   Now, gentle river hear my wishes
   And carry them upstream
   Wrapped up with love and hugs and kisses
   For my Gemini Dream.
PMW 2020   Thanks for reading, Pam x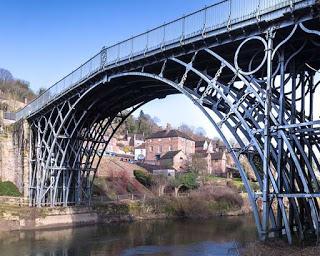 Email This
BlogThis!
Share to Twitter
Share to Facebook
Reactions: