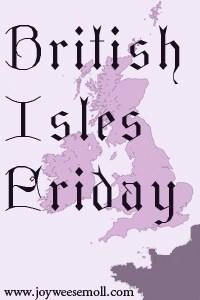 Welcome to British Isles Friday! British Isles Friday is a weekly event for sharing all things British and Irish - reviews, photos, opinions, trip reports, guides, links, resources, personal stories, interviews, and research posts. Join us each Friday to link your British and Irish themed content and to see what others have to share. The link list is at the bottom of this post. Pour a cup of tea or lift a pint and join our link party!
Last week, I wrote shared some history that helped me understand the Downton Abbey movie, which I very much enjoyed. Tina reviewed We Met in December By Rosie Curtis, a fun Christmas-themed novel for the upcoming season.
When we left our valiant heroes ( Brexit, Part 17), they were fighting it out in a session of Parliament that had been recalled, over Prime Minister Johnson's objections, by the Supreme Court. This video is the most balanced account I've seen about how damaging the political language is in Britain right now. Some of it sounds pretty familiar here in the US, too:
But, that was more than two weeks ago. So what has happened since then?
Last week, Prime Minister Boris Johnson released his Brexit proposal - the proposal that many in the opposition thought was a figment of his imagination.
His objection to the Brexit plan that had already been worked out between the EU and Prime Minister May's government was the Irish "backstop," a plan that was meant to keep a free and open border between the Republic of Ireland and Northern Ireland. I wrote about this difficulty, most recently, in response to PM Johnson's first speech as Prime Minister.
Johnson proposes an entirely different solution to the Irish border, best explained in this video because maps and lines are necessary to make this clear:
It's complicated, with two borders serving different functions and a lot of control in the hands of Northern Ireland to cut ties when they choose. Johnson and his allies believe that technology can be used to make either or both borders less onerous.
What's next? As we learned from Prime Minister May's attempts to get a viable deal earlier in the year, first the UK and EU negotiators determine a plan. Then, the UK and EU Parliaments approve it. So far, no deal has passed the UK Parliament or reached the EU Parliament.
Johnson's proposal is in the hands of the negotiators, at the moment, and it's not clear whether it's going to pass muster with the EU negotiators. The Republic of Ireland, which is part of the EU, doesn't want a border on the island of Ireland and is skeptical about technological solutions. An EU Brexit official has also expressed skepticism about putting Northern Ireland in charge of the final solution in four years (and with the right to assess, again, every four years) without any further negotiation with the EU.
Yesterday, however, PM Johnson met with his counterpart in the Republic of Ireland, the Taoiseach (Ireland uses the Irish word for "chief" as the title for their Prime Minister). The two tweeted out an optimistic statement, causing a sharp rise in the British pound.
Approval by the negotiators and the UK Parliament has to happen by October 19, according to the bill that the UK Parliament passed in September, or Johnson will be required to ask for an extension. Parliament plans to be in session on that date, only the fifth Saturday session in the last 80 years.
There's a lot of news to keep following for the next couple of weeks.

About Joy Weese Moll
a librarian writing about books