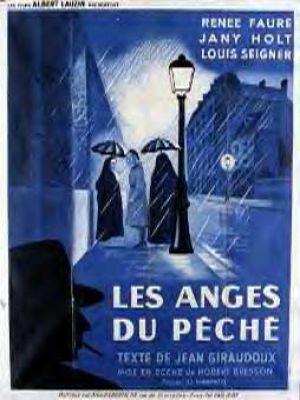 Les anges du péché (1943)
Director: Robert Bresson
Cast: Renée Faure, Jany Holt
My Rating: ★★★ (3 stars out of five, or 6/10)
In Short: A story that Bresson would tell better later in his career; his least impressive work
Les anges du péché, Robert Bresson's first film (after a nearly-impossible-to-locate short called Public Affairs), is easily one of his least impressive. It, along with its follow-up Les dames du bois de boulogne, is one of the two early films in which Bresson used professional actors. After these two features, he would begin using non-actors and his famous technique of employing them as "models," a trademark which would instantly become his signature casting preference. It is his use of professional actors here and with Les dames that separates it from his other work as almost unrecognizable Bresson. However, there are several thematic and stylistic flourishes present here that Bresson disciples will find familiar, such as the doomed protagonist who finds herself a victim of her own emotions and good intentions.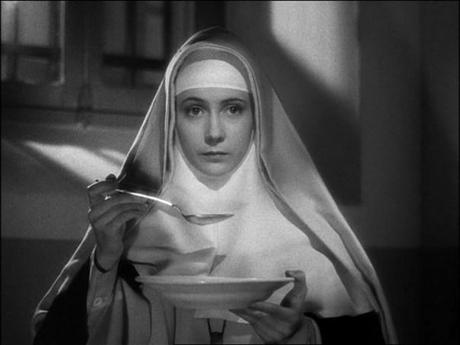 The film tells the story of a bourgeois woman, Anne-Marie, who decides to abandon her life of style and substance to become a nun at a convent who specialise in rehabilitating former and present prisoners. Anne-Marie forms an attachment with the cold and distant Therese, whose boyfriend framed her for a theft he committed and had her whisked off to jail for a harsh two year sentence. Anne-Marie desperately tries to get Therese to clear her thoughts and rid herself of the one thing that plagues her mind almost constantly: revenge. Therese is released and promptly buys a gun, shooting her boyfriend and fleeing the scene, deciding to hide in the convent with Anne-Marie while the police frantically search for her (despite the vague plot similarity to Sister Act, rest assured this is a very different film). Anne-Marie is overjoyed, but soon discovers Therese's secret, leading to ostensibly Bressonian tragedy.
Bresson is known by many as the godfather of depressing movie endings (I've seen ten of his thirteen movies so far, and eight of those ten have very sad endings), and Les anges du péché is no exception. In this manner it is far more similar to its follow-up Les dames, which retains (and enhances) the typical cynicism of Bresson's general filmography, but has an inappropriate and decidedly Hollywood ending, which I doubt was Bresson's original intention, considering he was not the sole author of it. But despite whatever thematical, stylistic or technical differences there may be between the two, they are both essentially Bressonian, Les anges moreso with the haunting innocence of its protagonist juxtaposed with the cruelness of the world around her. Les dames focuses on the cruelness of humanity, Les anges is more about the cruelness of the world in general, so much so that a flock of pure young woman remain secure and guarded with in a confined and disturbingly close convent. Their ventures into prisons to talk with prisoners is Bresson's kind release from the convent for them, which seems like a well-deserved gift, as it allows these sheltered women to interact with the real world around him, but in reality it is just an extension of his cynicism, as it is this interaction that leads to tragedy.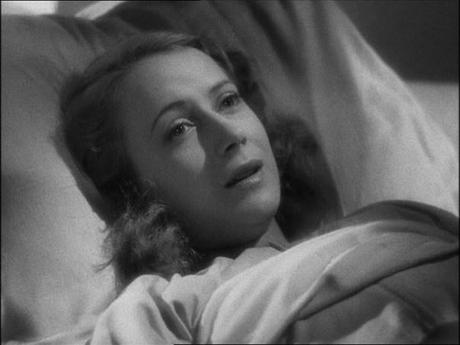 While Bresson's gift for storytelling and emotion (or rather, the absence of emotion) is what makes his films unique, Les anges du péché seems to me to be little more than Bresson in early stages, still toying with the instruments that he would later perfect. It might seem insulting to say this, considering Bresson was in his 40s when he made it, but he was not the filmmaker he would grow to be in his old age. Despite the cynicism, he was never a bitter old man who liked to see people suffer. Rather, he removed the suffering element by telling them not to express emotion. By being emotionless, we don't connect with them as much as in other movies, and we feel freer to observe them without attachment, and not feel so emotionally attached when tragedy strikes, but simply accept it as a movement in life, a thing that happens; not something to be lamented, but accepted. Les anges du péché fails in that it does not achieve this unique perspective which Bresson would begin to capture with his third feature, Diary of a Country Priest. As a standalone film, Les anges du péché is fine, but when you consider it as a Bresson film, as I do, you notice the flaws and how vitally different it is from the later work. If the characters in Les anges du péché had delivered their lines and acted without emotion, like in the later films, Les anges would've been far more powerful and disturbing, but its failure is, ironically, in that the actors act, and in a Bresson story, you simply cannot do that.
Or am I nitpicking? It would be easy to make the argument that I am. As I said before, this works fine as a stand-alone film, but I simply cannot accept it as a true Bresson work. Bresson fans will certainly want to check it out, but it is a story told far better later in his career. I give Les anges du péché a six star rating out of ten, and I think it is the least impressive (I don't want to say 'worst') Bresson film I have seen.