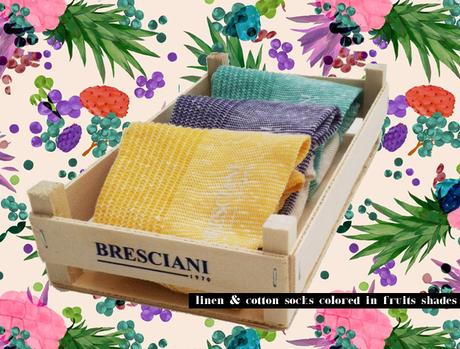 The Expo 2015 Mania has finally exploded.
More or less last minute gadget are appearing everywhere, from supermarket shelves to the streets.
But not only there .
There are many brands that have decided to dedicate a mini capsule collection to the Expo, that will be inaugurated today in Milan.
Clearly inspired by "Mediterranean" and related to the topic of food, is the proposal by the  100% made in Italy brand, Bresciani, for its socks.
Thinkinkg of fruits.
In colors, fabrics and small embroidered logos, that speak with images.
So, the wooden case with linen and cotton Bresciani socks, in the shades of melon, grapes and apple green was born, togheter with the "salad socks".
Bresciani could not think of a more sustainable 'green inspiration', when decided to mix the cotton fibers of pineapple and banana for this unusual organic salad.
The socks, in the most natural among the colors, have been transformed into the coolest prêt-à-manger,