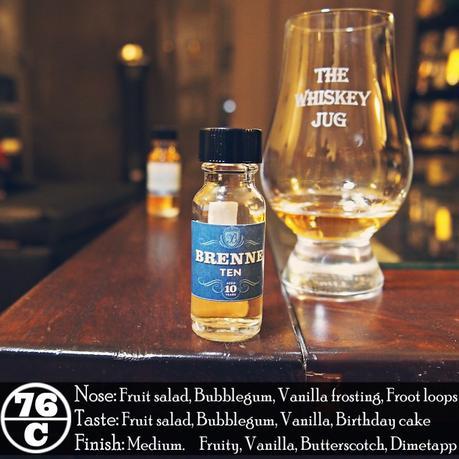 Brenne 10 is the older, and higher proofed, sibling of the original Brenne which has been a divisive dram in the whisky world. Some people absolutely love it while others, like myself, can't stand it and I think a lot of it comes down to if you're a sweet person or not. Me, I'm salty-savory which is why I like big oaky bourbons, peated islay whisky and darker unpeated malts like Criagellachie.
My liking of the darker, earthier side of whisky has set a precedence and when I find myself liking a sweeter lighter whisky and scoring it highly I find readers of this blog are surprised. It's not that I don't like lighter fruitier whiskies, it's just that they often lack depth and balance. Which is my main complaint about the Brenne line. While it is deeply sweet that's all it is and doesn't register as balanced which I'll write a bit more about in the Brenne 10 review below.
Brenne 10 Info
Region: France
Distiller: Brenne
Mashbill: 100% Malted Barley
Cask: ex-Cognac
Age: 10 years
ABV: 48%
Price: $100
Brenne 10 Review
EYE
Nectarine juice
NOSE
The aroma is a fruit salad of bananas, apricots, raisins, passion fruit and guava layered bubblegum and topped with vanilla frosting and Froot Loops. It's so sweet it comes across more like a fortified dessert wine than a whisky to me.
PALATE
Like the nose the palate is heavy with notes of fruit salad, bubblegum and vanilla, but here that fruity sweetness gets a sugary bump from some birthday cake and a wee bit of an acetone bite towards the end.
FINISH
Short and fruity with a bit of vanilla, butterscotch ice cream and Dimeatapp style grapiness.
BALANCE, BODY & FEEL
Off balanced from the sweetness that has no counter to it, medium body and an syrupy feel.
OVERALL
Brenne 10 is better than the original Brenne which is among my least favorite single malts out there due to its intense sweetness. I'm not a fan of sweet things in general and the saccharine nature of the Brenne 10 and the original just don't do it for me. All I ever taste is the overly sweet fruitiness from the sopping wet barrels they use to age their whisky in; it completely covers up anything I could really call "whisky flavors".
I know some people really enjoy this whisky, the always amazing Coopered Tot for example, but Brenne isn't my cup of whisky. I don't find balance, I don't find dimension and most importantly of all I don't find any malt in this whisky. To me the whole thing just comes across as fruit salad and bubblegum with some vanilla frosting and that's not what I want to drink. Allison is obviously doing well and has found her niche, but it's 100% obvious at this point that I'm not, and will likely never be, part of that niche.
SCORE: 76/100
*Disclosure: This sample of Brenne 10 was graciously sent to me by the company for the purposes of this review. The views, opinions, and tasting notes are 100% my own.