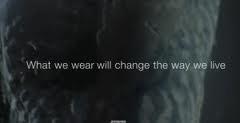 There is always new technology just around the corner. I would like to get your opinion on whether you would wear the following to play golf.

Collaboration between fashion designers and scientists in the UK has created a nanotechnology that will provide apparel will the ability to purify the air as and when you wear it.
For example if you play on a golf course near a major freeway, near a major conurbation or just if you use your gas guzzling motor to bring yourself to the golf course, it provides a way to reduce your pollution simply by wearing the golf shirt to play golf. The golfer would not notice this air purification process as the interaction between the air particles and the nanotechnology embedded in the garment fibres are invisible.

You may be aware that golf apparel today already contains many additional 'chemical' agents that are applied to the shirt to increase moisture-wicking, UV protection, anti-bacterial etc

Just imagine millions of golfers all over the world cleaning up air pollution as you play golf. But would you wear it?
----------------------------------------------------------