10/22/2011 – by Cynthia Wright
While South African (along with the rest of the continent) have kept it no secret their disdain for homosexuality, Breaking Out of the Boxes goes against the grain and discusses the lives of black South African lesbians that make up its population. The goal of the film is to raise awareness and pay tribute to those lost (and unfortunately, will continue to belost) within the struggle.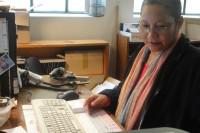 Documentary Still
The documentary focuses on six lesbians all from different ages and backgrounds. Through the course of the film we become intertwined with these women's lives, coming to understand what is part of their daily struggle and why they choose to stay. Whether they are the lead commissioner at a Gender Equality organization or soccer player turned coach for an all-male football team, the stories easily come across as different and transparent.
Another aspect of the documentary is that it gives a voice to those who are often the first to be made silent, at the same time despite all the hardships – there seems to be an underlying hope that things will soon change.
Breaking Out of the Boxes will be shown at the Out of Africa Gay & Lesbian Film Festival this year.