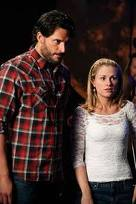 Hub Productions has confirmed that Joe Manganiello has been injured recently while on set. While they were unable to elaborate as to how seriously the actor was hurt, they did issue the following statement to Aussie fans who were expecting to see the True Blood star next month at the Tru Blood 2 event:
This morning Hub Central received a devastating call from the USA, to advise that tragedy had befallen our Tru Blood event over the last few days… poor Joe Manganiello was injured on set yesterday (commiserations, Joe!). He's devastated that he is unable to fly and will not be able to join us, as he was very much looking forward to coming out to Australia.
The staff at TrueBloodNet.com wish Joe a quick recovery!
Source: Hub Productions – Tru Blood 2, Bad News Comes in Threes
(Photo Credit: HBO, Inc.)