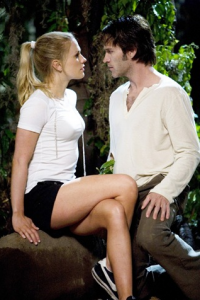 Anna Paquin and Stephen Moyer, the real-life couple who play Sookie Stackhouse and Bill Compton on our fave show, True Blood, announced through their reps today that they are expecting their first child together. Paquin, 29, and Moyer, 42, met on the True Blood set in 2007 and got married in 2010.
While this may be old hat for Moyer, who already has two children, it should no doubt be exhilarating for Paquin. The baby is due this Fall.
Congratulations to the happy couple! We wish them all the best!
Source: EW
Photo: HBO