Today I broke 100. For the first ever time in my short playing time.
To be honest I'm quite surprised it has come so soon. The course I was playing was Kings Links in Aberdeen. For a council run course it is in pretty good condition and still offers one hell of a challenge to both the beginner and the seasoned player.
I had played this course twice before, the first time being my first time playing a full 18 hole course. The initial score I had for this course was a pretty high 121. Which is almost double what the par of the course is, but I didn't let it get me down, as I was just happy to be out playing golf on an 18 hole course, but something inside me knew I could do better.
I returned some three weeks later with a target in my head, a number that I wanted to hit better than. That was to beat my last score and I knew I could do it. In the end I managed to shave a good 17 shots off my previous score totalling 105 for the round. It was so close to breaking that digits that many golfers aim to achieve and it just spurred me on I guess.
Two days later and I was back at Kings Links again. Ready to take on my 100 shot goal. I knew that the only reason I never managed to hit 100 the time before was due to a few silly holes where I shot up into the high single digits for a couple of holes and I didn't want to go the same way this time.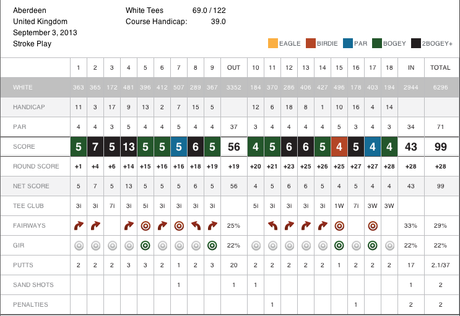 My first tee shot wasn't great, but I didn't let it get me down. I carried on and managed to hit a bogey on the first hole which was the hole that got me a relatively high score the last round.
I continued the round with some pretty shocking tee shots especially into the wind on the back 9, but that was pretty much always salvaged by my short game, making some fantastic putts and even netting myself a birdie on a par 5.
I finished the round on a cool 99. Talk about cutting it close, but I was on a high and I still am whilst writing this.
The lesson to be learnt from this is just focus on something that you want to beat and do it. Remain calm and don't let those bad shots get to you and you can achieve it. Know you can.