Disclosure: This post is sponsored by Left Field Farms, but the content and opinions expressed here are my own.
Mother's day is almost upon us and it is time to celebrate the woman who gave you life and made you the person who you are today. Be it a poem, a coffee-date or just a handmade card, what matters is the love that goes into doing it. Just a sweet gesture and your mom will be the happiest mom.
I don't expect anything huge, coz I believe that moms should be celebrated everyday, but a morning breakfast in bed wouldn't hurt. All moms could use a morning off from the kitchen and when it is made with love by their kids and hubs, then their day is made. I am a morning person and need my morning tea and a king-size breakfast. Breakfast is usually an elaborate fare in my household and I am sharing some hacks and a few quick things you could whip up to make an elaborate spread for your mom this Mother's day. Use these either for your Mother's day celebrations or even Father's day, you will certainly rack up all the compliments.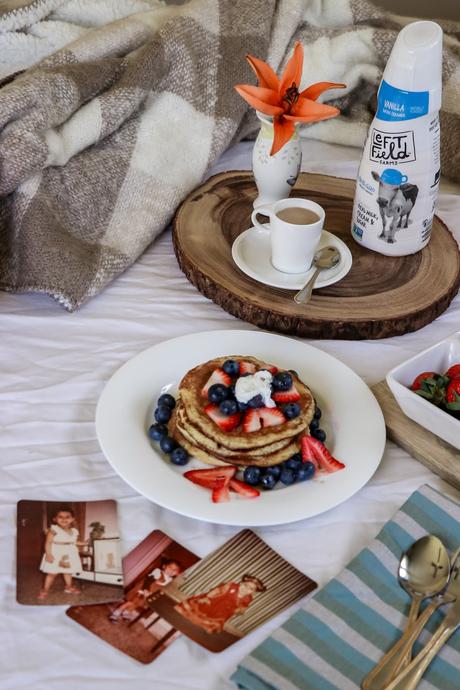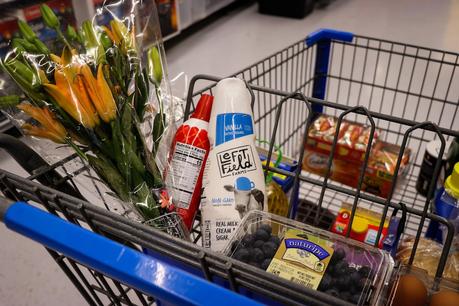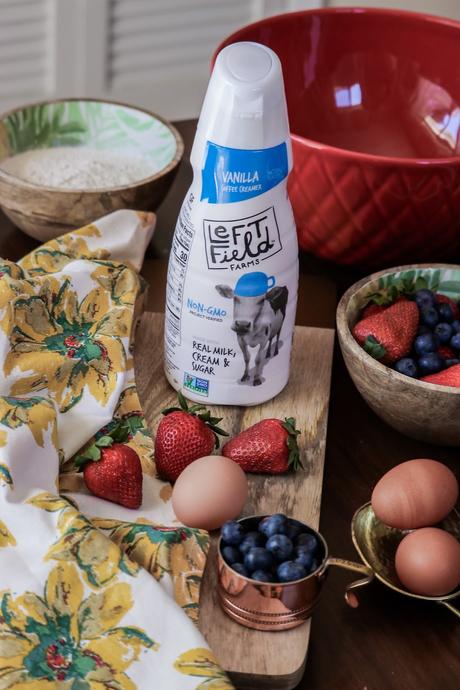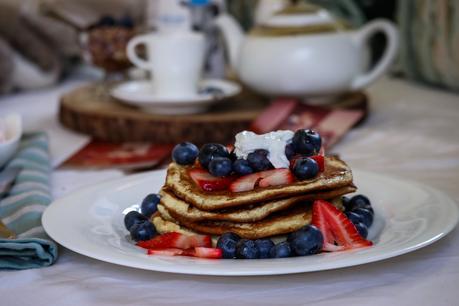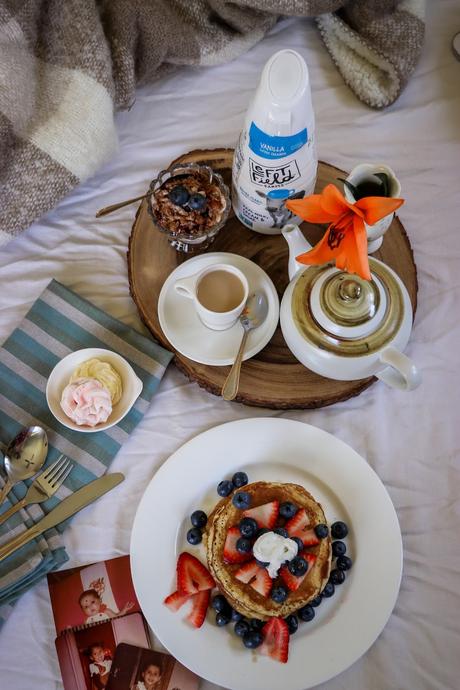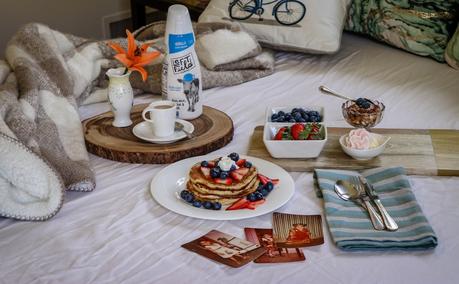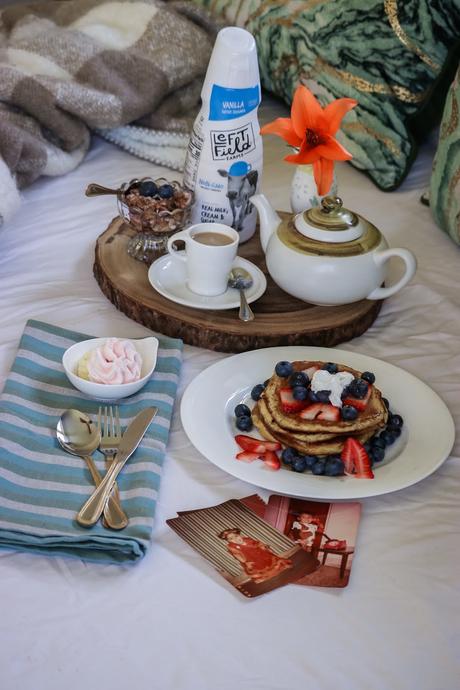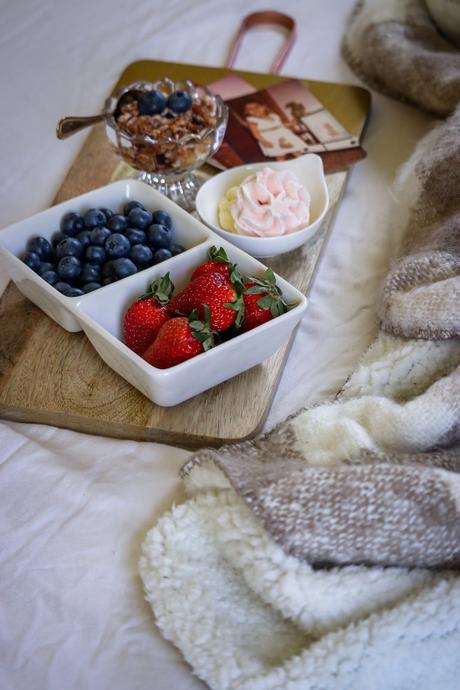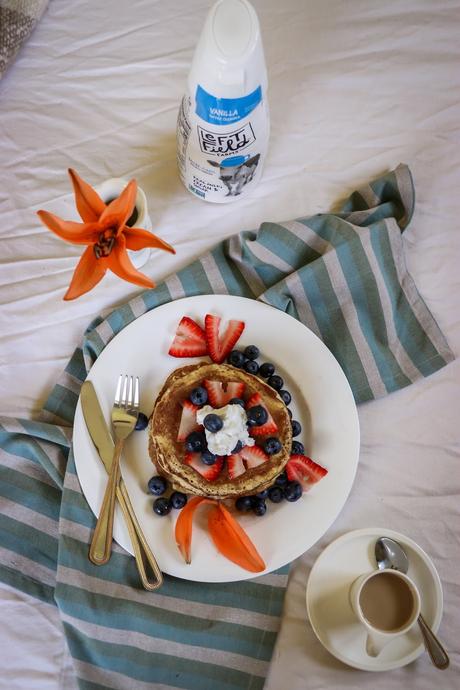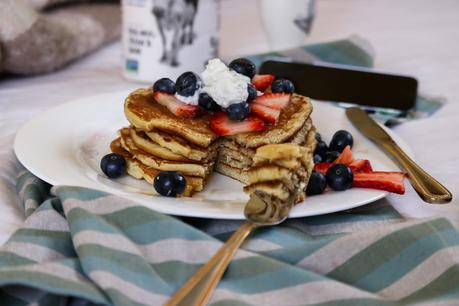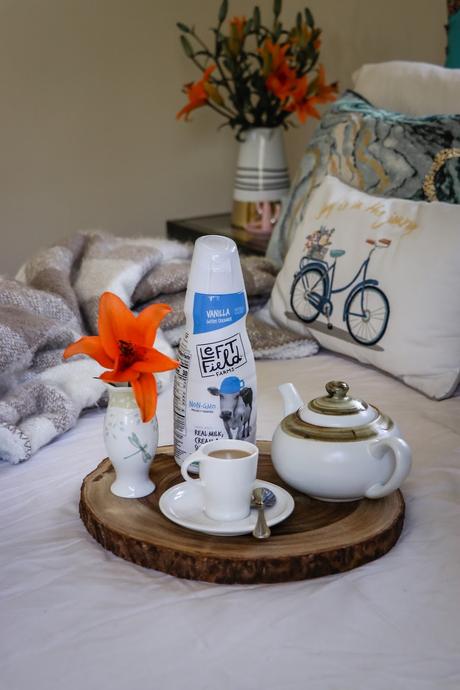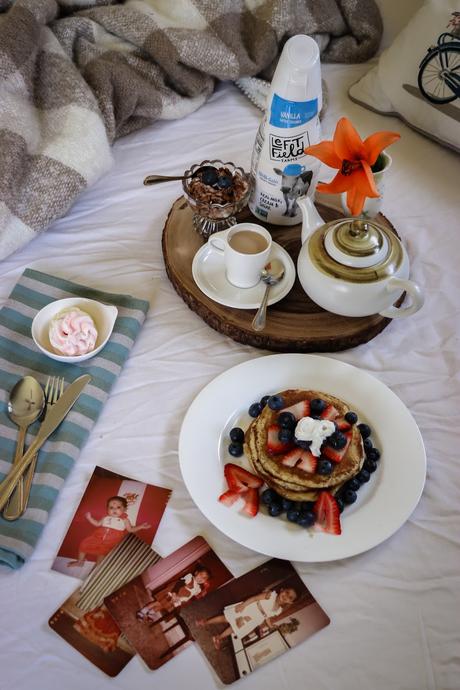 Plan your menu and go grocery shopping
- a good breakfast spread should comprise of a main entree or the star-item: pancakes, waffles, bagel/croissant or an open-face sandwich is a good idea, sides like yogurt with granola, a bowl of fruits or nuts, the drink: tea/coffee, juice or mimosa if your mom is a bubbly-lover, and the grand finale: dessert. So make a list of the ingredients as per your menu and go shopping. If you are making pancakes or waffles, I would highly recommend adding the 
Left Field Farms vanilla creamer 
 to your shopping list. 
I substituted the milk with flavored creamer and I have to admit that my pancakes came out fluffier and tastier. You could buy any other flavored creamer of your choosing, but for me vanilla did the magic!
Get cooking- cooking, cleaning ( you definitely don't want mom to clean up your kitchen mess, so do it simultaneously) and garnishing cumulatively takes time, so I would suggest giving extra time to yourself in the morning to do all of the above. My recipe for pancake is simple, see the steps below.
Ingredients
:
1 cup 

All-purpose Flour

1 Tbsp 

Sugar 




2 tsp 

Baking Powder




¼ tsp 

Salt




1

Beaten Egg


1 cup Left Fields Farm Vanilla Liquid Coffee Creamer


1 Tbsp 

Cooking Oil


Steps: 

1) In medium bowl stir together the flour, sugar, baking powder, and salt. Make a well in the center of the dry mix. Set aside.

2) In another medium bowl, combine the egg, milk, coffee creamer, and cooking oil. Add egg mix all at once to the dry mix. Stir just until moist (batter should be lumpy).

3) For standard size pancakes, pour about 1/4 cup batter onto a hot, lightly greased griddle, or heavy skillet. For dollar size pancakes, pour about 1 Tbsp batter. Cook over medium heat about 2 min. on each side or until golden brown, turning to second sides when pancake stops bubbling and edges are dry. Serve warm.

** Makes 8-10 standard size, or 36 dollar size pancakes.

Prepare your side

- in case you've added yogurt with granola or a berry bowl to your menu, here is a simple 5-minute recipe for it. Again you could replace the milk with the Vanilla creamer in your berry bowl. Now this is what I call " killing two birds with one stone" : one creamer and multiple recipes: I am loving it!


Get brewing

-if your mom is a tea-lover then brew some tea and if she is a coffee-lover then coffee be it! I personally like my coffee to have some flavor and hence would add a dash of the Left Field Farms Vanilla creamer. This creamer

is made with real sugar, real cream, and is NON-GMO project verified. So no sugar needed unless your mom likes her coffee extra sweet. 

Gather the rest

:

you've nailed the entree, the side and the coffee. So while the coffee is brewing, gather up what is left of the menu. For dessert, I am serving some store bought meringue cookies, easy-peasy and yum. For the drinks, it's just water and coffee.  Set it up

- there is no denying that I have become obsessed with food photography. I always enjoy setting it all up. I would serve my meal courses on separate platters. The entree can be served on a plate, the tea and liquid can go on a wooden server and for the remaining items: a long wooden board would be befitting. Wooden servers are sturdy and would avoid any spill and burn mishaps. For making this breakfast-in-bed extra special add some fresh flowers and serve your mom's childhood pictures instead of the newspaper. She would love it!

Now sit back and watch your mom ENJOY her Mother's day breakfast-in-bed!!! You are welcome to dig in as well.....

Congratulations to Emma of Style Splash, she is the featured blogger of the week.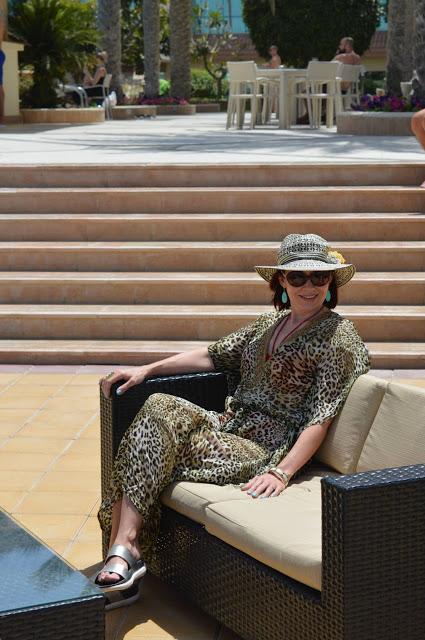 Now it is your turn to share your favorite looks.
An InLinkz Link-up