The Eternal Struggle of Soloist vs. Orchestra.
by
Paul J. Pelkonen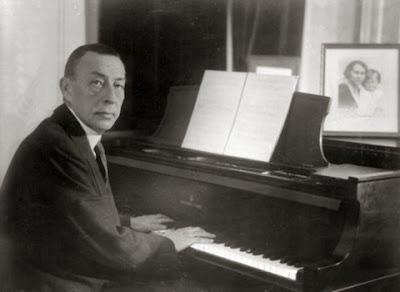 Sergei Rachmaninoff at the piano.
Acclaimed as a composer and pianist, he wrote four piano concertos.
In today's installment we're going to talk about forms again--specifically the
concerto,
one of the most popular types of concert music. Concertos are a standard feature of most orchestral programs, appearing second after an overture and before the symphony.
Some concertos have the soloist enter first. Others have the orchestra lead off. This can change from movement to movement, with the soloist and conductor "taking turns."
Concertos usually have three movements: a fast
Sonata allegro
, a slow central
Adagio
and a
Presto
finale. The music generally observes sonata form, eliminating the dance movement found in most symphonies. 
The three movements usually have passages (
cadenzas
) where the orchestra stops entirely and allows the solo player to either play a pre-written solo or add one of their own creation. These are usually placed between the different sections of the sonata, for example between the development and the recapitulation.
Here's a helpful diagram courtesy of our friends at Wikipedia.

The concerto is a very old form, conceived as a way to feature individual instruments against an orchestra, usually referred to as a
tutti.
Early concertos featured a small ensemble playing with the
tutti.
This form, known as the
concerto grosso
was popular with composers like Vivaldi (who is also the father of the violin concerto) Corelli, and later Handel and Bach. Here's an example:
A movement from a
Concerto Grosso
(No. 4) by Arcangelo Corelli.
As the
concerto grosso
became popular, another form evolved": a dialog between one soloist and the
tutti.
These concertos most often featured a solo violin, solo oboe, or solo keyboard. This was usually a harpsichord, although organ concertos were also popular. Later inventions like the fortepiano and modern piano produced an instrument that was capable of "doing battle" against an entire orchestra.
In writing a concerto, the composer is usually inspired by the capabilities of a particular soloist. In the case of composers who were also
virtuoso
 players (Vivaldi, Mozart, Liszt and Rachmaninoff) these concertos were planned as part of their concert or touring repertoire.
Here's Hélène Grimaud playing Johannes Brahms'
Piano Concerto No. 1
:
Others (examples include the violin concertos of Brahms and Sibelius) selected virtuoso players, or were commissioned by players to create concertos that fit their abilities. These composers often dedicated these works to those musicians.
Some points to remember:
All concertos are challenging to play, but there are some that have a higher "degree of difficulty" to them. In the case of Rachmaninoff's Third Piano Concerto, the challenge lies in that Rachmaninoff wrote the piece for his incredible dexterity and enormous hand-span. 
The Busoni Piano Concerto is incredibly long, has more than three movements and may include surprise elements such as a chorus. 
Concertos can be written for any number of soloists. The most commonly encountered are ones written for solo piano, solo violin, and solo cello, although there are so-called "double" and "triple" concertos for more than one player. 
Almost every instrument, from piccolo (Vivaldi) all the way down to tuba (Vaughan Williams) has had a concerto written for it. There are also concertos for percussion instruments, electronics and even the human voice.
When listening to a concerto, try to hear the dialog between soloist and conductor. Are they working together or fighting each other? Do the parts fit together musically? Is there something special or inspirational in a choice of cadenza or the way a passage is played?