Part I of a Superconductor series on Voice Types.
by
Paul J. Pelkonen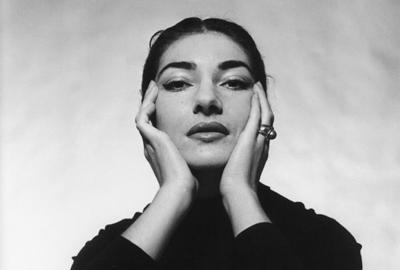 La Divina: The great Maria Callas. Photo © EMI Classics.
If I were teaching a basic class on the appreciation of opera, one of the questions I would (probably) get is about the different types of voices and singers one encounters. So we're starting a series on voice types, complete with entertaining musical examples. If you already know this information, you're still likely to enjoy the music!
Let's take it from top--literally.
Sopranos are (usually) female singers whose range runs two octaves (and possibly more). (Male sopranos are sometimes heard in choral music, but are commonly replaced by countertenors or even boy trebles. Composers from another era wrote for the
castrati
(boy singers who were mutilated before puberty to preserve their voices) but we're not even going to go there right now.

The soprano range from Middle C to High F.
The (usual) low note is "middle" C (the center of the piano keyboard) although some operas can call for a middle A♭. The high end is usually high C although some composers ask for higher notes--all the way up to the series of high Fs that Mozart wrote into "Die Hölle Rache", a famous aria from
Die Zauberflöte.
There are many different types of soprano voices, but they generally divide into four categories.
Coloratura
 (sometimes called
fioratura
) is the highest of soprano voices characterized by brilliant, flourish-filled singing and sometimes death-defying high notes above the afore-mentioned high C. They are heard most often in
bel canto
and baroque opera. There are
lyric
 and
dramatic
coloratura sopranos, and a class called
soubrettes
that usually appear in comic or light opera.
Example:
The Queen of the Night in Mozart's
Die Zauberflöte.
Diana Damrau sings "Die Hölle Rache" from Act II of Die Zauberflöte.
Lyric
sopranos are the middle of the pack, with a slightly heavier instrument that combines power and flexibility. Heard frequently in Verdi and Puccini.
Example:
The title role in Bellini's
Norma.
Joan Sutherland sings Casta diva from Act I of Bellini's Norma.
Spinto:
The term literally means "pushed", and indicates a middle range between lyric and dramatic, often having a voice of great power and still capable of tenderness and sweet singing.
Example:
The title role in Puccini's
Tosca.
Sondra Radnovovsky sings "Vissi d'arte" from Tosca.
Footage © 2011 The Metropolitan Opera.
Dramatic
or "Wagnerian" sopranos are meant to power over giant-sized orchestras with a powerful, sometimes laser-like tone. These are the "heaviest" roles that some  sopranos aspire their whole careers toward singing.
Example
: Brunnhilde in Wagner's
Der Ring des Nibelungen:
Birgit Nilsson sings Part II of the Immolation scene from Götterdämmerung.