Discussing the female voices that are lower than the soprano.
by
Paul J. Pelkonen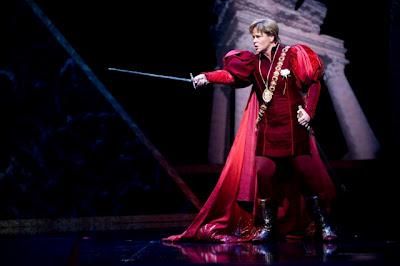 Mezzo extrem: Susan Graham in the title role of Handel's Ariodante.
Mezzo-sopranosoften play travesti ("trouser") roles in opera.
Photo by Terrence McCarthy, © Santa Fe Opera Festival.
Our series on voices and continues as we talk about mezzo-sopranos and contraltos (or altos), the lower ranges of the female voice. As usual, there are nice clips to go with the discussion.
It is a common misconception about opera that all works in the genre are written with a soprano in mind as the leading lady. Many composers (especially in French and Italian opera) wrote their works around the duskier sounds of the mezzo-soprano, a rich, chocolatey tone that may not soar to the same heights but can convey maturity, maternity, and above all, sexuality to the listener.
Carmen
is written for a mezzo-soprano. So is Dalila. So is Verdi's Eboli in
Don Carlo
. All are great seductresses. Berlioz (another great French composer) was a big fan of this voice, writing mezzo parts for Didon (in
Les Troyens
) and Marguerite in
La Damnation de Faust.
Mezzo-sopranos also play crucial
travesti
parts in operas: the title role in Handel's
Serse
 for example.  Richard Strauss, who loved the sound of a mezzo voice singing with the soprano, created some memorable "male" roles: two famous examples are the Composer
in
Ariadne auf Naxos
 and one of the greatest roles ever written for the range, Octavian in
Der Rosenkavalier.

The typical mezzo voice ranges from the G below middle C (the center of the piano keyboard) to the B two octaves above. Some mezzo-sopranos can sing a high C. (These are usually former sopranos trained to the note who take advantage of being able to span both ranges.) There is a wide variety of voices and a wide variety of roles--from the saucy heroines of Rossini operas to Wagner's own embodiment of Mother Earth.
Here are the four basic types of lower female voice:
Coloratura Mezzo
The lightest and most flexible of these voices, often called on to sing astonishing, gymnastic parts in the operas of Rossini. For many years, these roles were sung by sopranos, but an authentic performance movement in the 20th century led to a resurgence for mezzo-sopranos like Teresa Berganza, Cecilia Bartoli, and Jennifer Larmore.
Example:
Rosina in Rossini's  
Il Barbiere di Siviglia.
Teresa Berganza sings Una voce poco fa from Il Barbiere di Siviglia.
Footage from the Jean-Pierre Ponelle film of the opera, © 1971 Deutsche Grammophon.
Lyric Mezzo
A heavier, richer sound--not as agile an instrument but one that can get right in and melt the tenor's heart. Lyric mezzos often gets to sing the part of the seductress in operas like
Carmen
 and 
Samson et Dalila.
In Italian operas, they often play the rival to the soprano.
Elena Garanca in the final scene from Carmen with Roberto Alagna as Don José.
Footage © 2009 The Metropolitan Opera.
Dramatic Mezzo
These are the strong Verdi figures like Azucena in
Il Trovatore
 or
Amneris in
Aida,
characters who have to be able to slice through an orchestra and rain pure hell-fire on the stage. Wagner wrote some of his best parts for this role--most notably Fricka, Wotan's nagging, merciless wife in
 Der Ring des Nibelungen
.
Waltraud Meier sings "O Mensch, gib Acht!" from Mahler's Symphony No. 3.
Contralto
The contralto sits lower than the mezzo, ranging from the E below middle C to an E two octaves above. It's the rarest operatic voices. They play duennas, housemaids, and sometimes mothers (most notably La Cieca in Ponchielli's
La Gioconda
.) The alto voice probably has the least amount of major parts written for it--although Rossini's wonderful
Ciro in Babilonia
 features a contralto
travesti
as the Persian emperor Cyrus the Great. And Wagner made his Erda
,
his "earth mother" figure in the
Ring
 a deep contralto, as seen in the following footage:
Birgitta Svenden sings Erda in Wagner's Das Rheingold. Footage © 1990 The Metropolitan Opera.