So what do they mean by "original instruments?"
by
Paul J. Pelkonen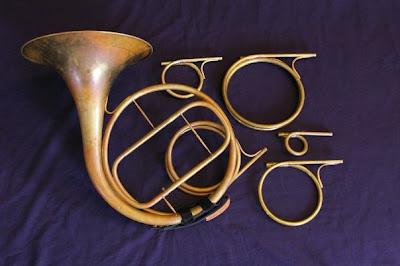 Natural horns (with replaceable "crooks" instead of valves)
are a key part of  historically informed performance.
The creation and composition of what we call "classical" music has gone on for half a millennium. In that time, both the music and the instruments it is played on have changed considerably. Iron-framed concert grand pianos, valved trumpets, metal flutes--all of these are comparitively recent inventions.
In 1954, a movement began in Europe encouraging the exploration and performance of Bach cantatas on "historically informed" instruments: that is, original or replica instruments of the 18th century and earlier. The idea was to recreate the sound of a a given piece of music at the time that it was written. The success of these initial Bach performances led to a whole slew of new baroque-style orchestras being formed.
It was the era of the big classical music label. Many of these new ensembles were given recording contracts, and the world soon saw an explosion of interest in baroque and Renaissance music. A handful of ittle known musicians: Nikolaus Harnoncourt, John Eliot Gardiner, Christopher Hogwood, Roger Norrington and William Christie became star conductors.
"Historically Informed Performance" (as it has come to be called) incorporates so-called "original" instruments. Wooden flutes replace metal ones. Oboes and bassoons have simplified key mechanisms. Keyboard soloists favor wood-framed, sometimes pedal-less "fortepianos" instead of the modern concert grand.
String players often play smaller or antiquated instruments, strung with old-fashioned cat-gut. Brass instruments have no valves, making it necessary for a player to change "crooks" (lengths of tubing) in order to switch keys or play slide trumpet. Even percussionists use a different kind of kettledrum, a smaller, copper bowl covered with goat-skin and played with hard wooden mallets.
There are any number of prominent ensembles playing original instruments. The Freiburg Baroque Orchestra, the Orchestra of the Age of Enlightenment, the Academy of Ancient Music and the Orchestre Révolutionnaire et Romantique (which specializes in period performance of early Romantics like Schubert, Schumann and Berlioz) are just a few examples of this style. Opera companies that favor original instruments over modern ones include Les Arts Florissants, regular visitors to New York under the baton of conductor William Christie. 
John Eliot Gardiner conducts the English Baroque Soloists in the Overture to Le Nozze di Figaro.
Some orchestras, like the Chamber Orchestra of Europe and the Vienna Philharmonic, opt to mix period instruments with modern ones. The COE uses old-style timpani and trumpets. The Vienna players favor the 19th century style "Viennese horn" in F and a particular style of oboe. Both ensembles have a unique sound that makes them very much in demand.
Another, more controversial change came when conductors started researching so-called "authentic" editions of scores by major composers. Some familiar works, especially the Beethoven symphonies, received an un-varnishing, with the raucous sound of natural horns and very fast tempos changing the way people listened to classical favorites. Other conductors chose to exercise these ideas in the world of opera, exploring the forgotten repertory of Rameau, Vivaldi and Handel, or putting a fresh spin on familiar works by Mozart.
Today, such "historically infomed" ensembles offer an alternate take on familiar classical pieces by composers like Bach, Mozart and Beethoven. They are best experienced in the concert hall, where these works can sound fresh and vital even to the most jaded ear.