How low can they go? (The answer is, usually a low "D.")
by
Paul J. Pelkonen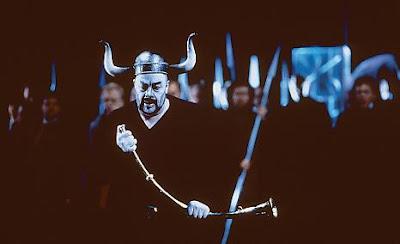 Matti Salminen as Hagen in Götterdämmerung at the Savonlinna Festival.
Photograph by Stefan Bremer © 2011 Savonlinna Festival.
This is the last section of
Brass Tacks
 dealing with voice types. And I've saved my favorites for the very end.
Basses are the lowest of the six major voice types, and exclusively male. A great bass will be able to sing in his normal range and then move his tone production deep down into the chest (this is called the "break") to deliver room-shaking low notes. A full "black bass" must be able to bellow over the orchestra, in scenes like the Calling of the Gibichung Vassals from Act II of
Götterdämmerung.
Most operas have parts for basses, who get to play devils, priests, and the most villainous of villains. The hardest roles in the bass repertory (mostly because they're very long) are the title role in
Boris Godunov
and the father-and-son villains Alberich and Hagen in Wagner's
Ring Cycle
.
There is some cross-over from the baritone range, particularly in bass-baritones, the voice type that is frequently a bass who can push up into the baritone range for certain passages. Examples of this include Wotan in Wagner's
Ring
although the part in
Das Rheingold
has been sung by a full baritone,and John Tomlinson, a full bass, sang all three Wotan roles at Bayreuth in the 1990s.
Let's start with a great example of bass singing: Martti Talvela as Osmin in Mozart's
Die Entführung aus dem Serail.
This aria, "Ha! Wie Will Ich Triumphieren!" requires a low D.
Footage © 1978 Bayerische Staatsoper. 
And here's a rare duet for two basses as King Philip (Ferruccio Furlanetto) confronts the Grand Inquisitor (Matti Salminen) in Act IV of
Don Carlo.
Footage © 1980 Salzburg Festival/Sony Classical.
"Migration" between bass voices is usually a one-way street--a Dr. Bartolo is highly unlikely to sing Hagen in
Götterdämmerung
although sometimes deep bass voices go "up" to sing comic villains.

The range for a bass voice is the C two octaves below middle C to the F above middle C (C to f'). A bass-baritone  The lowest note required for a bass is Osmin's low D2 in
Die Entführung aus dem Serail.
Lyric Bass
The highest and lightest bass voice, heard in comic opera,
opera buffa
and operetta.
Erwin Schrott sings
Se vuol bailare
from
Le Nozze di Figaro.
Footage © 2006 Royal Opera House of Covent Garden.
Buffo Bass
Found frequently in the comic bel canto operas of Rossini and Donizetti, these singers specialize in
parlando
, a high-speed stream of Italian singing delivered at a spitfire pace. These singers tend to specialize in comic parts.
John Del Carlo sings Un dottor della mia' sorte from Il Barbiere di Siviglia
Footage © 2007 The Metropolitan Opera.
Basso Cantante
Powerful, yet melodius, basso cantanti ("singing bass") is basically a bass-baritone that is slighlty lighter in weight and flexibility. They are versatile, in-demand singers who can perform anything from Mozart's
Don Giovanni
to the title role in Verdi's
Attila
Ildebrando d'Arcangelo sings "Votre toast" (the "Toreador Song") from Act II of Carmen.
Footage © 2006 Royal Opera House of Covent Garden.
Basso Profundo
The deep end, with that resonant low C. They play gods, kings and devils. Gounod's Mephistopheles, Mozart's Sarastro, and the title role in
Boris Godunov
, an opera that has
three
prominent bass parts.
Kurt Moll sings "O Isis und Osiris" from Die Zauberflöte. 
Footage © 1991 The Metropolitan Opera.
Heavy Dramatic Bass ("Black bass")
The same range as a
basso profundo
, but these voices have a large, ominous quality that allows them to portray the blackest of operatic villains. There are fewer parts for this specific type of voice, and a small number of great singers who reign in parts like Hagen and the Grand Inquisitor from
Don Carlo
. 
Matti Salminen sings "Hagen's Watch" from Act I of Götterdämmerung.
Footage © 1990 The Metropolitan Opera.