The "middle" of the male voice.
by Paul J. Pelkonen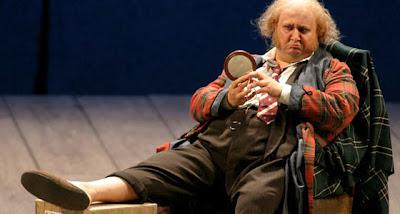 Verdi's Falstaff is a pinnacle of the baritone repertory. Here, Ambrogio Maestri has a pint.
Photo © 2011 Bayerische Staatsoper.
We're in the home-stretch of our
Brass Tacks
survey of the different types of opera singers. Today, we're talking about baritones: the "middle" of the male voice.
Although the baritone is one of the most versatile vocal types, composers did not begin creatingimportant works for it until the end of the baroque era. Mozart and Rossini led the innovation, bringing Beaumarchais' 
Figaro
 plays to the operatic stage in 
Le Nozze di Figaro
 and 
Il Barbiere di Siviglia
.
Baritones are important to operas both as soloists...
Simon Keenlyside as Papageno in Die Zauberflöte.
Footage © 2003 Royal Opera House of Covent Garden
And in support of higher voices in duets and larger ensembles:
Dwayne Croft and Rolando Villazon in a scene from Don Carlo. 
Footage  © 2007 The Netherlands Opera
In 1850, Verdi's
Rigoletto
elevated the game yet again, making Victor Hugo's hunchbacked jester into a figure of towering dramatic stature. Later operas like
Il Trovatore
,
Simon Boccanegra
and
Un Ballo in Maschera
featured baritone villains that are as memorable as the tenor parts.
The 19th century also saw the evolution of the "bass-baritone." These singers are featured in most of the operas of Wagner. They can either be a baritone who can extend his range downward,  or more frequently a high bass with an exceptional lyric range.
The typical range for a baritone is from a low A below "low C" to a G# above middle C. A bass-baritone may be able to extend their range down to a low D, but voices vary.
There are more categories  of baritones than listed below, but I tried to choose the major categories. Remember that singers of experience are difficult to "pigeon-hole" and this list is by no means definitive.
Lyric baritone
The highest and lightest of comic baritone voices, often cast in comic parts. Many
lieder
specialists are lyric baritones. Others start as lyrics before age and experience encourages them to push their voices into lower and deeper parts.
Hermann Prey sings Largo al Factotum from Il Barbiere di Siviglia.
Footage © 1971 Deutsche Grammophon.
"Cavalier" Baritone
Slightly lower and heavier than the lyric, these singers are the life-blood of most Verdi operas.
Double baritone goodness: Leo Nucci (Ford) and Renato Bruson (Falstaff) in Act II of Verdi's Falstaff.
Footage © 1982 Los Angeles Opera.
Character baritone
These singers take the complex Verdi character parts--title roles in Macbeth and Rigoletto.
Željko Lučić sings Pari siamo from Rigoletto
Footage © 2010 Vienna State Opera.
Dramatic baritone
These singers have more heft and weight to their voices although at this point the voice types start to overlap.
Piero Cappucilli sings O Plebi! Patrizi! 
from Act I of Simon Bocanegra.
Footage © 1975 La Scala
Bass-baritone
A hybrid voice that can sing in a baritone voice but with extended low notes and the imposing vocal presence of a bass. The pinnacle of both bass and baritone repertories.
James Morris sings Wotan's Farewell from Act III of Die Walküre.
Footage © 1989 The Metropolitan Opera.