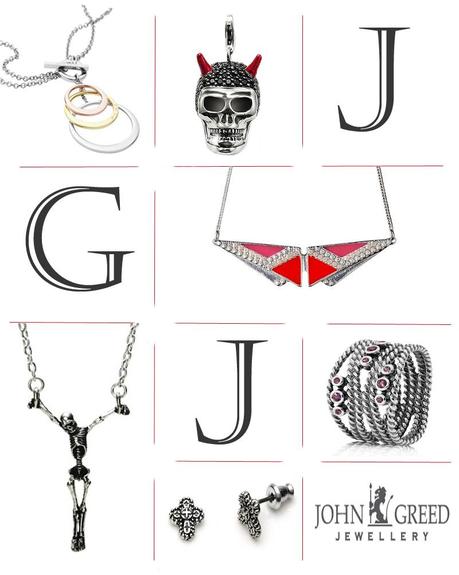 From Left to Right: DKNY: Triple Tone Ring Necklace   Thomas Sabo: Silver, Red Enamel and Black Paave Zirconia Horned Skull Pendant  Pilgrim Vitality Karma Silver Plated and Orange Deco Necklace   Alchemy Pewter The Lost Soul Pendant  Pandora Silver and Rhodalite Rope Band Ring  Hultquist Silver Cross Byzantine Stud Earringss


Don't you just love twitter?? The richness of the information flow, the ease of new interactions and in particular the way it brings people & brands you've never heard about before; right to your fingertips. Well that happened to me last Friday, when I received an email from John Greed Jewellery in response to a tweet I put out. Having been unaware of this brand before then (yeah I know, I'm so out of the loop but I do live in a bubble sometimes) I wanted to know what they were all about.
So what did I find??....A website full of gorgeous pieces of jewelry. A mixture of designer brands, lesser known boutiques and affordable names means, that John Greed Jewellery cleverly has every price-point covered: all in one place. Some to suit my budget and some that I could ask for as presents and some that even if I didn't eat for a whole month, I might just be able to buy part of one, so those are just going to have to make do with being added to my ever growing wishlists.(groan)
I don't know about you, but I'm always fascinated about the story behind brands. Who the people behind them are are, what inspired them, their passions, how they managed to obtain success (often against the odds). So what's the story behind JGJ??

John Greed Jewellery was the brain-child of the eponymous owner John Greed. Inspired whilst working on his sister's jewelry stall in Covent Gardens, London. It was there that his passion for selling jewelry was ignited.
Intent on providing consumers with a unique selling point, he went against traditional jewelry selling formats and constructed his business, more in-line with fashion stores; where visual merchandising of stock is often displayed in a more theatrical way, Greed questioned "Why can't you sell jewelry like that??"
With a flagship store in Lincoln, a substantial on-line presence including 32,077 Facebook fans and 10,919 followers on Twitter, this company is clearly on the right track. With Greed's unique  interpenetration on how to sell jewelry like fashion, being right at the heart of John Greed Jewellery's success. Starting out with only £100 as capital, and some savvy business sense, Greed re-invested the profits back into the business ~ a lesson that we could all probably learn something from. Showing that from "humble beginnings come great things" as John Greed Jewellery is now one of the UK's fastest growing retailers.
The company specialises in sourcing unusual brands from all over Europe, which is one of the reasons I will be purchasing jewelry from them in the future. There is nothing I hate more than clones!! Which is hard to avoid with blue print towns up and down the country, all featuring the exact same shops, stocking the exact same thing. So it's pretty difficult to find unique or unusual pieces. Which is why I think Pandora has been so sought after (another brand which JGJ stocks; in fact they are an official UK Pandora retailer) customers can tailor their jewelry to what they want.

I'm not a big fan of Pandora myself and especially the charm bracelets, for the exact same reason I just spouted above, after a while everyone has got one and it becomes the norm yada yada yada, that being said the silver and rhodalite rope band ring featured above is in fact Pandora, and I love it. (Does that make me a hypocrite hmmm?? Well there's nowt as fickle as a woman especially when it comes to fashion and jewellery)
However my latest jewelry crush in which I would love to be greedy and snap up their whole collection is Thomas Sabo. I hardly ever wear gold jewellery, I don't particularly like it, which is why Thomas Sabo's jewelry draws me in; Sabo is renowned for his sterling silver designs. How striking is the Silver, Red Enamel and Black Paave Zirconia Horned Skull Pendant that is featured above?? 
An item more in-line with my current budget is The Lost Soul Pendant by Alchemy. This attention grabbing piece is priced at £10.99 and absolute bargain in my opinion. (Oh yeah don't forget to check out the Designer Outlet section on the JGJ website too, there were loads of great bargains to be had when I looked).
I didn't actually feature any products from Soda Pop in my mood board, but I do think they deserve a mention. This fun and funky brand is rocking some good monochrome pieces in time for the summer, my favorite being the buckle bracelet below.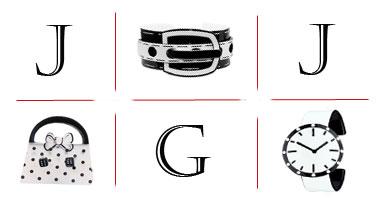 Some of the brands that are stocked by John Greed Jewellery:

Don't forget to let me know in the comment section below, which items from John Greed Jewellery you would like to get your greedy mitts on??
CVT xx
"If you enjoyed reading this, then become a follower and that way you'll never miss a post!"
Stay Connected via: