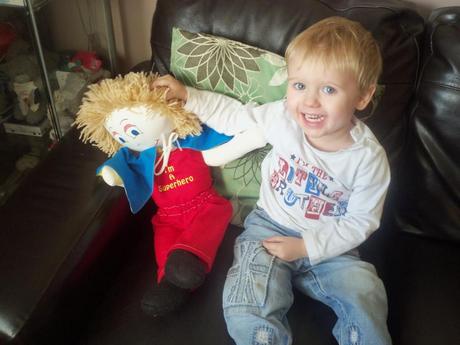 Kody With His Boys Doll
My 2 year old little boy loves nothing more than to play with his sisters dolls and enjoys pushing the pushchair in the house and while this is fine, there is no way my husband would allow our son to take the doll and the pushchair for a walk in public.
I was rather intrigued when I was offered a doll designed especially for boys, while Kody took an instant love to this doll, the husband still is not to keen.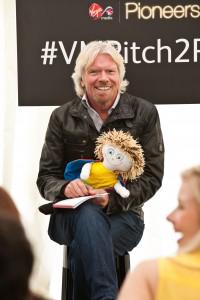 Look at Sir Richard Branson having a cuddle, he said they are "superb" and didn't want to let go!
It is not as bad as a pretty pink doll"  he said, yet definitely no pushchair is allowed, if he takes his boy rag doll for a ride in the back of his tractor then that's much better.
Say hello to RagHeroes, a BRAND NEW range of rag dolls, with boys in mind! Although we are sure your little girls will love them too!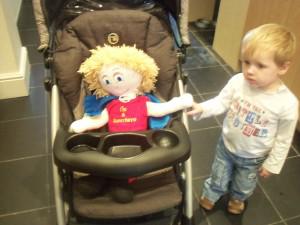 At RagHeroes we want to challenge the concept that little boys should not play with dolls. In fact, we actively encourage it!
All dolls are approx 57cm/22.5 inches tall (impressive yeah!) and are made from 100% new materials. The dolls faces are hand painted onto the material which gives a lot more character to the dolls and makes them totally unique, no two dolls are exactly the same!
I have heard the argument that a man will push his son in a pram so what's the difference? The difference is a baby is a human being and a doll aimed at girls is just that. My husband says.
If your son must have a doll please buy him one designed for boys, you don't want him turning into a wimp!
So while the Ragdoll is a fab idea, Kody will not be taking it outside as his daddy is not impressed.
While there is nothing wrong with boys pushing dolls and pushchairs I personally would not feel comfortable taking my little boy for a walk while he pushed a girls pram. I don't agree with my husbands strong views but I do agree that I don't actively encourage the boys to play with the girls dolls. I would not personally buy any of my boys pushchairs for their dolls either.
I would love to hear your own views on this new design of dolls? Will you be buying one for your son?
If you agree that these dolls aimed at boys is a great idea then please VOTE for RagHeroes today