Here's an imaginary conversation between all of the Hollywood studio executives (whose lines are in italics) and female filmgoers:
Hollywood: What do you want?
Women: More movies made for women!
Hollywood:
When do you want it?
Hollywood:
How can you prove you're serious about it?
Women: Yesterday!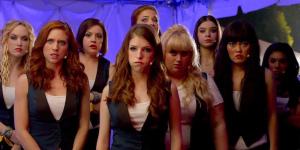 Women: We're going to support every female-targeted movie you put out this year is to such a degree that dang near every single one of them is going to open well above expectations. Well, not so much Insurgent, Hot Pursuit or Tomorrowland, but holy crap are we are going to buy so many tickets to see Fifty Shades of Grey, Cinderella and Pitch Perfect 2. We're going to be so passionate that your fancy pre-releasing tracking math nerds are going to look foolish. They said Cinderella would be lucky to open to $60 million. We brought it in at nearly $68m. They said Pitch Perfect 2 couldn't go any higher than a $45m debut. Bitch, please. We gave that movie a $69m opening.
Hollywood: Yes to all of that. Please keep doing what you're doing. At this rate, we can't wait to see how much the new Melissa McCarthy movie Spy makes. Our tracking people think it will at least pull in $35 million in its first weekend. Prove them wrong, ladies.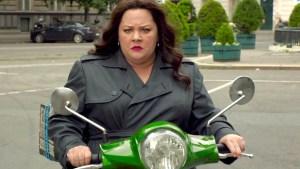 Women: Well, this is awkward. We love McCarthy - great girl, real salt of the Earth. However, you realize that we also like horror movies, right? That Insidious: Chapter 3 could be a fun scare. Plus, just because we're girls doesn't mean we won't go to see a straight-forward disaster movie, especially if it stars Dwayne Johnson. So, San Andreas looks good, and everyone I know who saw it last weekend loved it. Also, geese, don't put this all on us. We only make up half of moviegoers. You've got to get guys interested too. All told, we helped Spy make $29m this weekend, with 60% of the audience being female. That sounds pretty good to me.
Hollywood: But it's one of the best reviewed movies of the summer and of Melissa McCarthy's career. We've been showing the damn thing all over America in screenings since we premiered it at SXSW in March, where it pretty much got a standing ovation. We gave you all those trailers with McCarthy doing her signature Chris Farley pratfalls. We raved about how this was a Paul Feig movie, reminding you how much you liked Bridesmaids and The Heat. And, on top of all that, we freakin' threw in the manliest man around, Jason Statham, as a funny spoof of the normal characters he plays.

Women: Eh. Aren't all Melissa McCarthy movies basically the same?
Hollywood: Well, her last one, Tammy, was actually super dark. Remember when Susan Sarandon almost dies?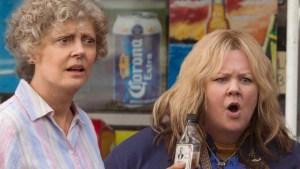 Women: Yeah, well, we didn't love that movie.
Hollywood: That's not on us. It was a passion project. McCarthy and her husband wrote that movie, and he directed it. But, come on, we gave you The Heat.
Women: To be honest, we didn't really love The Heat either, although Sandra Bullock and McCarthy were so much fun together.
Hollywood: You shut your mouth. The Heat is the best buddy cop comedy of this or any generation, and Melissa McCarthy is a national treasure.
And scene.
No one is weeping or crying woe is me over Spy making $29m this weekend, giving the $65m project a 10-day worldwide total of $85.5m. However, as I attempted to get at in my little imaginary conversation above there is something ever so slightly disappointing about this start, in large part because most of the major female-targeted films this year have shattered expectations while Spy actually came in a little below. It was still the #1 film at the domestic box office, but it was supposed to easily best San Andreas' second weekend, not narrowly pull ahead on Sunday. It opened a bit lower than The Heat's $39m, but that had Sandra Bullock. It did beat Tammy's $21.5m opening, yet it didn't match McCarthy's Identity Thief ($34.5m).
Fox is not concerned, nor should they be. Spy did, after all, only fall $6m short of expectations. The studio's domestic distribution chief Chris Aronson told THR, "Laughter does cure all, and there isn't another comedy in the marketplace for weeks." The lack of competition along with a solid B+ CinemaScore grade should lift Spy much higher the rest of the month.
Still, why didn't Spy have a bigger opening weekend? Forbes' Scott Mendelson has a good take on it:
Spy is a much better film than the previous McCarthy starring vehicles, but opening weekend is about marketing and perception. 20 th Century Fox did sell Spy mostly as a "watch a pratfalling Melissa McCarthy as a bumbling fish-out-of-water secret agent," while the film completely inverts that presumption as its core joke. This is a rare case of a studio arguably selling an inferior version of the movie [...] I can't count the number of people who commented to me that the film's marketing made it look like the McCarthy vehicles they didn't like. I would like to think the rave reviews will push people over the edge and I have to imagine the word-of-mouth will be fantastic. But audiences have to show up for word-of-mouth to matter. This one will go down as one of the best big studio releases of the summer, and if a mere $29m debut weekend feels like a disappointment, it's because the film itself deserves better.
This Weekend's Actual Box Office Top 10 Totals (6/4-6/6)
1) Spy (Domestic Debut)
2) San Andreas
The silver lining?
3) Insidious Chapter 3 (Debut)
4) Entourage (Debut)
McCarthy films tend to have long legs past opening weekend. Even alleged "flop" Tammy earned $84.5m domestic off a $21.5m Fri-Sun/$33m Wed-Sun July 4th bow. If it plays like Identify Thief (3.8x weekend-to-final), it gets to $117m. If it plays like The Heat (4x), it gets to $122m, with Fox hopefully working its overseas magic accordingly.
Rock on, Dwayne Johnson. San Andreas only dropped 52% this weekend, an excellent hold for a summer blockbuster these days. It's off to a great start in China where it has amassed $52 million in its first six days.
5) Mad Max: Fury Road
6) Pitch Perfect 2
7) Tomorrowland
8) Avengers: Age of Ultron
Production Budget=They're not telling
3-Day Weekend Gross (Domestic)=$10.2m
5-Day Weekend Gross (Domestic)=$17.6m
Weekend Gross (International)=$3m
Worldwide Debut=$20.6m
9) Aloha
Warner Bros. is taking this one in stride. They opened it on Wednesday to get a head start on the competition, and had hoped for a minimum of $20m across the five days to potentially kickstart a new low-budget film series. However, an Entourage movie always seemed like a bad idea considering how many of the show's viewers were actually hate-watchers.
10) Poltergeist
Age of Ultron is now the fifth-highest grossing film of all time, passing The Deathly Hallows Part 2. However, don't expect it to go any higher on the list because it has officially wrapped up its run in China, where it totaled $234.2 million, the country's third-highest-grossing film of all time behind Furious 7 and Transformers: Age of Extinction.
And now we know the answer: No, Aloha is not going to be saved by word-of-the-mouth the way prior Cameron Crowe flop-turned-hit We Bought a Zoo was
What Left the Top 10?: Far from the Maddening Crowd (Current total: $9.8m domestic), Hot Pursuit (Current total: $33.3m domestic/$35m budget) and Home (Current total: $171.9m domestic/$135m budget)
What's Up Next?: Sundance hit Me, Earl and the Dying Girl opens in 14 theaters. Why so few? Because it seems like every single theater in the entire world will be playing . Jurassic World!!!!