So, here's what happened this weekend at the domestic box office: Thor: The Dark World made a lot of money (but not enough for some people's liking) while last week's holdovers, Last Vegas and Free Birds, actually held stronger than expected.  Plus, 12 Years a Slave and About Time expanded wide, and got to play the whole "yeah, we didn't rank very high, but did you see our per-screen-average?" card.

Let's break it down:
Top 10 Estimates for the 11/8-11/10 Weekend Box Office (Domestic)
1. Thor: The Dark World  (Opening Weekend)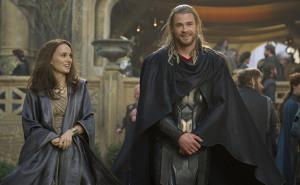 Opening Weekend Gross=$86.1 million

Budget=$170 million
Foreign: $94 million this weekend for a new total foreign gross of $240.9 million and combined worldwide total of $327 million.  It has now opened in over 90% of the international market.
Two weeks ago, pre-release tracking estimated Thor: The Dark World was heading toward an $85-90 million opening.  Then it opened to a combined $109 million last weekend overseas, and then on Thursday it more than doubled what the first Thor made from its midnight screenings.  Suddenly, The Dark World was not only definitely going to beat Skyfall's early November record opening of $88 million (set last year) but possibly challenge for an opening north of a $100 million.  As a result, there are those who would look at this $86.1 million as being a disappointment.
They would be wrong to do so.  Perhaps the colossal openings enjoyed by Iron Man 3 ($174 million) and Man of Steel ($116 million) over the summer have altered our definition of success.  Even though $86 million is clearly quite a bit less than $174 million, it's still enough to register as the fourth largest domestic opening of 2013.  Its budget was $20-60 million lower than some of 2013′s big movies like Iron Man 3, Man of Steel, Star Trek Into Darkness, World War Z, Pacific Rim, The Lone Ranger, Jack the Giant Slayer, and Oz the Great and Powerful, and it opened far higher than all but 2 of them.  Beyond that, it also landed the largest opening for any Marvel film not to feature Robert Downey, Jr. as Iron Man, and 12th highest opening for any comic book movie in film history. Its opening is a clear improvement over the $65.7 million opening of the first Thor in 2011, with the gap between the two staying the same even after you adjust for ticket price inflation.
Thor is not Iron Man, and Chris Hemsworth not Robert Downey, Jr.  The popularity of the characters and bankability of the stars is not comparable.   In fact, it's debatable how much of an Avengers-boost for The Dark World is due to Loki (that film's villain, this film's anti-hero) and not Thor.  However, The Dark World has improved upon the opening of its predecessor almost as much as Iron Man 3 did over Iron Man 2 (percentage-wise at least), doing so with only a marginal bump from 3D ticket sales.  According to BoxOfficeMojo.com, the first Thor was seen in 3D by 60% of its opening weekend audience as opposed to the 39% for Dark World.  So much for all of that "Gravity has revived 3D ticket sales" talk.  With an A- CinemaScore grade and next-to-no legitimate competition next weekend, it would be stunning if Thor: The Dark World suffers a significant second-week drop ala so many other 2013 big budget movies.
2. Jackass Presents: Bad Grandpa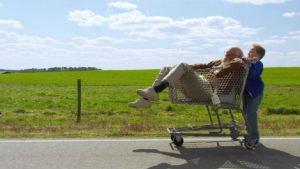 Weekend Gross=$11.3 million
Total Gross to Date=$78.7 million
Budget=$15 million
Foreign: So far, it has $22.2 million total foreign gross from 10 foreign markets (notably the U.K. and Germany) for a combined total worldwide gross of $100.9 million.
Bad Grandpa, Free Birds, and Last Vegas all finished so close to one another they could actually switch spots on the chart once the actual totals (as opposed to studio estimates) come in tomorrow. For now, Bad Grandpa ended up with its second week in a row at #2.  Pre-inflation, it is now the second-highest grossing film in Jackass franchise history; post-inflation adjustments, it's still the lowest grossing, though at this rate that won't be true much longer.  2013 movies which Bad Grandpa now has a higher domestic gross than include 2 Guns, White House Down, The Smurfs 2, Percy Jackson: of Monsters, A Good Day to Die Hard, After Earth, and Jack the Giant Slayer.  Is that a tribute to Bad Grandpa or condemnation of a collection of notorious disappoints?  Of course, The Dark World has already out-grossed all of them in just its opening weekend (it dang well better have considering its budget).
3. Free Birds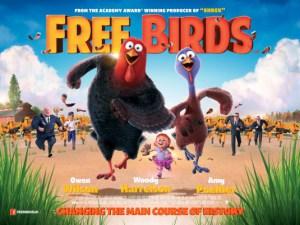 Weekend Gross=$11.18 million
Total Gross to Date=$30.1
Budget=$55 million
Foreign: It has opened in more than 15 countries, but there is no official estimate as to combined foreign gross yet.
Huh.  Maybe Thanksgiving fever actually is starting to set in.  While the Thanksgiving-themed Free Birds had the second lowest domestic opening of all major 2013 animated films, here in its second weekend it actually displayed a surprisingly strong hold by only dropping 29%.  Then again, the 2013 animated film that did have the lowest opening weekend (Escape from Planet Earth) only dropped 32% its second weekend on the way toward topping out at $57 million domestic/$70.9 million worldwide on a $40 million budget.  So, they shouldn't get excited just yet.
4. Last Vegas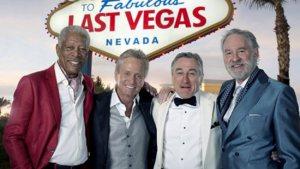 Weekend Gross=$11.10 million
Total Gross To Date=$33.5 million
Budget=$28 million
Foreign: It has opened in more than 11 countries, including China, but there is no official estimate as to combined foreign gross yet.  
Like Free Birds, Last Vegas also had a relatively soft opening last weekend followed this weekend by a very strong hold, dropping only 32%.  It has now already earned its budget back in domestic gross alone, and may have been a wisely timed appeal to older audiences.
5. Ender's Game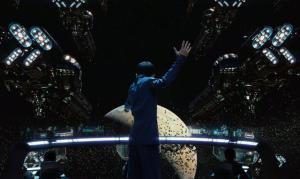 Weekend Gross=$10.2 million
Total Gross to Date=$44 million

Budget=$110 million
Foreign: Information about its performance this past weekend is not yet available, but prior to this weekend it had grossed a combined $9.1 million foreign which now adds up to a worldwide total of $53.1 million.  It is now playing in 26 countries, 14 of which were added this past weekend.  Its biggest individual markets include the U.K., Russia, China, and France.
Ouch.  First, the people behind Ender's Game had to come to terms with having allowed their budget to grow large enough that a $28 million opening was actually disappointing.  Then they had to suffer the indignity of negotiating with IMAX theaters who had originally committed to airing Ender's Game unopposed on their screens two weekends in a row but now realized the immense stupidity of such a decision and wanted to at least split time with Thor: The Dark World instead.  Now, in its second weekend Ender's Game dropped off 63%.  It doesn't take a statistician to figure this one out: lower than expected opening/higher than expected second week drop=bad news.  Ender's Game's opening was comparable to other 2013 sci-fi films like Oblivion, Elysium, and After Earth, the former two having rebounded due to stronger than expected business overseas.  Even that can't be relied upon for Ender's Game, where it has far more competition than they did and is doing poorly.  Sadly for the fans of the film and of Orson Scott Card's novel(s), this is shaping up to be just another one of 2013′s notorious box office bombs, doing worse at this stage than even After Earth was.   

6. Gravity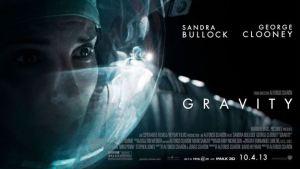 Weekend Gross=$8.4 million
Total Gross to Date=$231.1 million
Budget=$100 million
Foreign: $26.3 million this weekend for a new total foreign gross of $241.2 million and combined worldwide total of $472.3 million.  After expanding into the U.K. this weekend, pretty much everywhere is now playing Gravity.  The only remaining major release is in Japan in mid-December.
At this point, it's simply a matter of keeping track of where exactly Gravity ranks among the top-grossing films of the year.  It is currently the 7th highest domestic grossing and 9th highest worldwide grossing film of 2013, in both cases ahead of Star Trek Into Darkness but behind of Oz the Great and Powerful.
7. 12 Years a Slave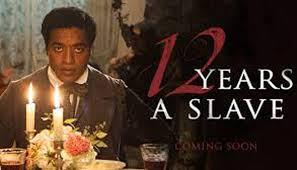 Weekend Gross=$6.6 million
Total Gross to Date=$17.3 million
Budget=They're Not Telling
Foreign: Outside of film festivals, it will not make its international debut until mid-December.
The award for the "it actually had the second highest per-screen-average of all films in the top 10″ goes to 12 Years a Slave this week, which pulled in $5,769 per its 1,114 screens as opposed to Thor's $22,418 per its 3,841 screens.  So, yeah, Fox Searchlight's attempt to position 12 Years a Slave as more adult-counter-programming to Thor didn't make much of a dent overall.  However, it was well-attended and continues to perform beyond expectations for such an unflinching depiction of slavery that equates to an often unpleasant viewing xperience.
8. Captain Phillips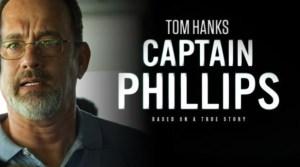 Weekend Gross=$5.8 million
Total Gross to Date=$90.9 million
Budget=$55 million
Foreign: Now playing in 38 different foreign territories where it has grossed a combined $55.1 million for a worldwide total of $146 million.  Estimates as to specific performance in foreign markets this past weekend have not been made available yet.
Odd fact, do with it what you will: this is the first weekend since its release that Captain Phillips didn't finish one spot behind Gravity in the box office top 10.  Until now, those two were like a tandem bike, both moving in unison, one always just behind the other.  However, this separation is not an indication of any great drop in Captain Phillips, which while seemingly winding down still manages to only drop around 30% each weekend.  At this rate, it will end up surpassing the $100 million domestic mark but having ultimately lost the "which one made more, Phillips or Argo?" battle.
9. About Time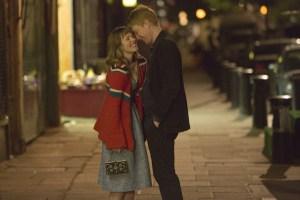 Weekend Gross=$5.1 million
Total Gross to Date=$6.6 million
Budget=They're Not Telling
Foreign: The domestic market is one of the last major territories to actually get a chance to see About Time.  It originally opened in the U.K. in early September, and has since played in over 30 different countries prior to the U.S. and Canada.  To date, it has pulled in $38.2 million in combined gross from its foreign territories for a worldwide gross of $44.8 million.
In limited release, director Richart Curtis' (Love Actually, Four Weddings and a Funeral, Notting Hill) time-travel rom-com About Time made little impact last weekend.  As such, it wasn't expected to do much when it expanded wide this weekend.  However, at the very least it was the third most well-attended film of the weekend as indicated by having the third-highest per-screen-average of any film in the top 10.  It managed to perform better than another  2013 indie like The Way Way Back did when it expanded beyond 1000 screens, and made almost the same amount of money as Blue Jasmine did the weekend it played on the same number of screens.  With little competition on the way next weekend and Enough Said having now faded thus making About Time the most notable rom-com out at the moment, it'll be interesting to see what staying power, if any, this has.  

10. Cloudy with a Chance of Meatballs 2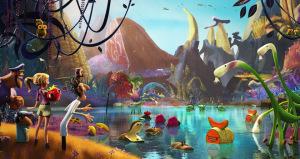 Weekend Gross=$2.8 million
Total Gross to Date=$109.9 million
Budget=$78 million
Foreign:Information about its performance this past weekend is not yet available, but prior to this weekend it had grossed a combined $81.1 million foreign which now adds up to a worldwide total of $191 million.  Major markets awaiting its release include China, Japan, and France.
Here it is the 7th weekend of its release and Cloudy 2 just continues along, sticking in the top 10 again and only dropping around 30% every weekend.  It's fallen off the pace of the first Cloudy and well behind last year's Hotel Transylvania, both from the same studio.  However, ask Relativity Media, the makers of Free Birds, if they'd take Cloudy 2's business over their's.
Source: 
BoxOfficeMojo.com
What Happened Outside of the Top 10?
Who Fell Out of the Top 10?: The Counselor (from #9 to #14) and Carrie (from #10 to #11).
Notable Performances from Films In Limited Release: The Robert Redford showcase All Is Lost continued its steady climb up the charts, pulling in over $1 million to land at #12 in its fourth weekend of release.  This was after they more than doubled the number of screens showing it to now be up to 401.  As a point of comparison, Instructions Not Instructions made over $10 million its opening weekend in August despite only playing on 348 screens. That is the absolute extreme for success among releases playing on that many screens, and what All Is Lost is doing is far more modest business at a far more crowded time of the movie season.
What's Up Next?: 
Kind of nothing.  The rival studios have largely yielded the upcoming weekend to an expected strong repeat performance from Thor: The Dark World.  The only new films getting wide releases are the African-American-leaning comedy The Best Man Holiday and Shia LeBouf indie The Countrymen, both coming out on Friday (11/15).
Jeez, enough with the numbers already.