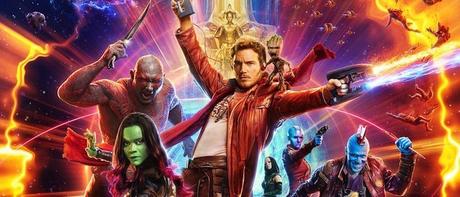 15 movies. 15 no. 1 openings.
That's the Marvel Studios way. The latest no. 1 opening is Guardians of the Galaxy Vol. 2, which earned an estimated $145m this weekend, marking a 54% increase over the first Guardians' $94.3m August 2014 opening. That's the largest jump for a second film in Marvel Studios history. Vol. 2 is similarly outperforming its predecessor everywhere else in the world. Here's where the film stands worldwide after 13 days: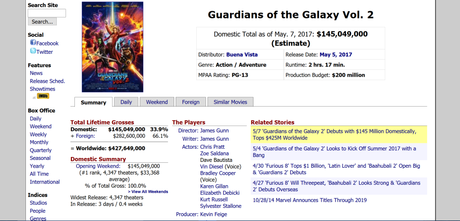 And when Vol. 3 comes out in a couple of years, reuniting the cast with director-writer James Gunn, it'll probably do just as good if not better. That's how beloved the Guardians franchise has become. However, that's also just how historically strong Marvel Studios' brand loyalty currently is and will continue to be for the foreseeable future.
As run by Kevin Feige along with his two co-presidents Louis D'Esposito (head of physical production) and Victoria Alonso (head of effects and postproduction), everything Marvel Studios makes, save The Incredible Hulk, practically prints money. According to Deadline, the studio's 15 films have grossed over $11 billion worldwide, netting $1.17 billion in combined profits for Disney/Marvel "after all revenue costs and ancillary money streams."
Why, though? Why is Marvel Studios so successful? Their movies all make money, earn at least modest praise from critics and continue to please fans all over the world. It's a perfect, but ever elusive combination considering how many movies (WB's sorrowful DC offerings, Transformers, Pirates of the Caribbean) make money despite not being very well liked by critics or audiences or both. So, what is it about Marvel Studios that makes it so different?
The answer really isn't that complicated nor is that revelatory for anyone who's already thought about this question a lot. Marvel Studios has Kevin Feige; everyone else has people who aren't as good.
It really is that simple, even more so since the 2015 reorganization which left Feige and his co-presidents answerable to only Disney chairman Alan Horn. Feige is the guy who started his film career getting people coffee on the set of X-Men movies, often giving him a front row seat on what not to do, especially on X-Men: The Last Stand. Now he is in the middle of one of the most successful runs by any one studio executive since the Golden Era studio moguls, and he's done so largely by not thinking like a studio executive. Instead, his model has been John Lasseter, the Pixar and now Disney Animation Studios genius. Like Lasseter in his prime, Feige allows his creative and story instincts to guide all decision-making and then filters that through a creative committee of trusted collaborators. In practice, as Feige told Deadline, this means employing the type of practices which might seem common sense to the ordinary person but are often foreign concepts in a Hollywood overrun by clueless executives, nervous shareholders and general incompetence:
Hire the right people
"I can't think of anything where I would say 'Don't do that'. We don't sit in the theater and say 'Make it brighter'. Some of that is just the natural instincts of ourselves and the filmmakers we work with."
This hasn't always worked out, leading Feige and company to either boot a director off a project (bye-bye Patty Jenkins, Edgwar Wright) or to wield a heavy hand in post-production (sorry, Alan Taylor). However, the principle is sound: hire the people you feel will best execute your vision and/or share your general sensibilities. You then end up with the perfect marriage of director and film franchsie, as is the case with James Gunn and Guardians.
Think of them not as comic book movies but as genre movies that happen to feature comic book characters
"I never believed in the superhero or comic book genre. Genres are diverse with novels, and it's the same thing when it comes to Marvel titles. It gets us excited. We don't feel like we've made 15 comic book movies, but a fantasy epic ( Guardians of the Galaxy), a political thriller (Captain America: The Winter Soldier), and a heist film ( Ant-Man)."
This is a common Feige argument which is often disputed by cinephiles, who argue that for all of Marvel's talk of genre-hopping their films all maintain a similar house style, both visually and tonally. True, but the genre-hopping keep things from growing overly stale, and the maintenance of a consistent tone is central to the brand loyalty. It's what assures audiences that they always generally know what they're going to get they go to see a movie and see that Marvel Studios logo.
Hit audiences with the comedy and then bring on the tears
"When you sit and test these films...We do friends and family screenings where we show rough versions of our movies which are horribly painful. Imagine watching Guardians without Rocket, Groot or any of the space ships. It's a horrible thing to do. The one time you know it's working is when the audience is laughing. That's the only sign you get that they're with you. Laughter is the way you hook the audience, then you can scare them or touch them emotionally deeper than they expected in a film about a tree and raccoon."
Pick the characters and properties that sound like good ideas for movies, not simply the ones which sell a certain number of comics per month or already have a specific cultural footprint
"It's about how good a movie you can make off an idea as opposed to how many comics it sold, did it have a live-action series in the '70s, or a hit animated series in the '90s. That was a great theory for me to have for a long time, but it was really put to the test with Guardians. It just encouraged us to continue what we're doing."
Continue to challenge yourselves creatively
"The biggest risk was not doing [ Guardians or Doctor Strange or Ant-Man]. The biggest risk would have been doing Iron Man, 1, 2, 3, 4, 5, 6, 7 and 8."
The Marvel Studios formula is not that complicated - it's simply "how can we make the best movie possible?" or "let's make the type of movie we'd want to see."