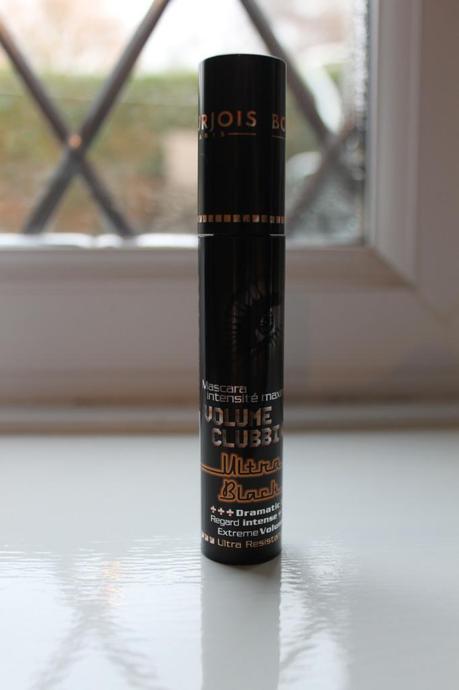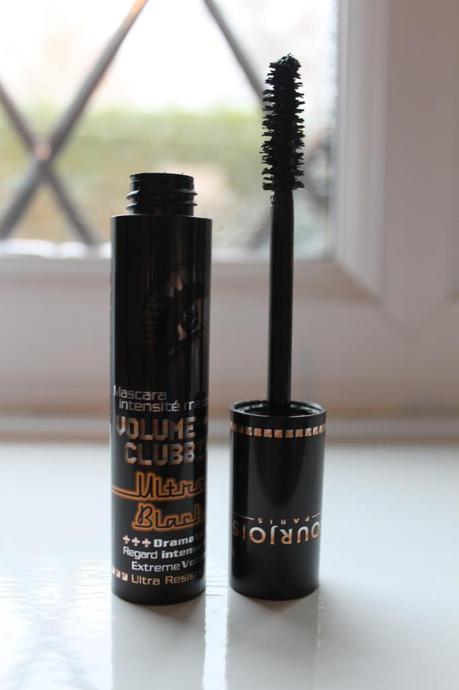 Bourjois Volume Clubbing Mascara in Ultra Black*
" Dramatic look & Intense Volume "
If I had to choose one make-up product to use for the rest of my life, or take to a desert island, not including beauty products, just make-up, I would choose mascara. I could have terrible skin, but as soon as I put mascara on I feel I instantly look better.
I haven't got any up close pictures of this, as to be honest, I find pictures up close to eyes a bit creepy. Though I am wearing this in every outfit photo I've posted in the last month. My eye lashes are naturally really long, but they are also dead straight. I'm far to lazy to use an eyelash curler everyday, plus the ones I've used aren't that great. The things I look for in a mascara is blacker than black colour, no clumpy-ness, volume and a wand that helps create a slight curve.
The color of this mascara is great, and doesn't dull as the day goes on like some mascaras I've tried. It has a brush wand rather than a comb, which I prefer as comb brushes hurt my eyes. It distributes the product evenly, without clumps and does create volume and a slight curve, the only thing I dislike about the brush is that when I try to coat the inner eyelashes I end up with mascara on my eyelids/side of nose. It doesn't go flakey after a day at work, which I love, as there is nothing worse than mascara crumbs around your eye. I've actually slept with this on and it looked the same the morning after as it did the night before, probably why Bourjois claim its 'tested and loved by clubbers'. 
My only problem with this product is I find it hard to remove when I wash my face with my usual cleanser. What I have learnt to do, is to use an eye make-up remover, then wash my face and I find that all the product is removed and my eyes are sore from rubbing at them for ages.
Basically, for £7.99 its great if you want ultra black lashes, with volume and no clumpy-ness and spider-y lashes. I would just suggest you also buy an eye make-up remover, I use one by Simple.
Have you tried any Bourjois mascaras or any Bourjois products? Anything you would recommend? Let me know!
"believe in yourself"