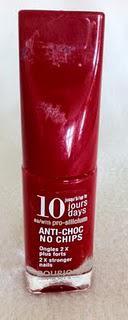 Bourjois 10 Day Nail Enamel
Red nail polish, the ultimate accessory of the femme fetale; seductive, sensual, and dangerous stalking the noir lit streets of Manhattan.  Ok I may be exaggerating how glamorous my life is. Swap Manhattan for an industrial town in the Northwest and a femme fetale for, well, me but the effects are the same, there is something deeply glamourous about red nails.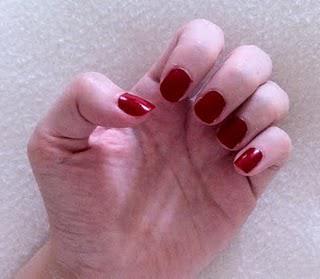 Bourjois 10 Day Nail Enamel in shade 20
Where the illusion of glamour fades is when your nails have huge chips in them because lets face it, life is often more important than those not-so-essential midweek manicures. So imagine my delight when Bourjois created a nail polish that lasts for a whole 10 days!!
Well actually when you read the small print on the back of the bottle it actually says 10 days with touch ups. Who doesn't already touch up their polish when it chips? Where Bourjois 10 Day Nail Enamel stands out from the crowd is that the high pigmentation color means that the touch ups blend and disguise chips well. I would say that two touch ups are fine but anymore than that and the nails start to look uneven and not as neat as I would like.
There is an angled brush that makes it very easy and quick to create a professional looking, neat finish. The polish is also a good consistency, and combined with the brush, this means it glides on. The color is also extremely bright with only two coats needed for high impact color.
So most importantly does Bourjois 10 Day Nail Enamel last for 10 days? In my experience this isn't quite the case. On the first application it lasted a good 3 days before any major chips and with touch ups I managed to last it out for 7 days. However, by this point the nails weren't really looking their best and needed to be reapplied.
This is a great nail polish, very easy to apply, long lasting, great color and very affordable. Ladies if you need a little glamour in your life treat yourself to a Bourjois 10 Days Nail Enamel.
Bourjois 10 Day Nail Enamel Review Product:
Long lasting nail polish from Bourjois
Longevity:
Lasted around 7 days with touch ups.
Affordable:
£5.99
Easy to use:
Angled brush and good formula means it is very easy to apply
Availability:
Widely available from Boots and Superdrug and online.
Would I repurchase:
Yes
The Verdict: 8/10 A long lasting, easy to apply and affordable nail polish from Bourjois
.