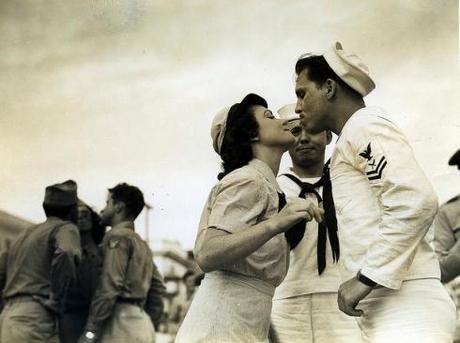 The Bliss Bubble. It's a magical place, where all you see is sunshine and candy canes – and all sorts of other sweet and juicy tidbits that make your heart sing.
Not completely unlike the Boyfriend Cave – the Bliss Bubble is normally a place for new lovers. Couples that are so into each other they're almost coming out the other side. People that practically skip when they walk – and let ten people in front of them in the coffee line (side note: no matter how happy I am, I would never do that. Nothing personal, but I need my morning coffee like yesterday.)
So, this Bliss Bubble. Is it confined to new couples? No, not necessarily. People who go on long-haul trips often embrace this happy-go-lucky frame of mind (until menacing withdrawals and impending depression rear they're ugly heads), the same way people who land their dream job can embrace a sense of unbridled bliss. It's intoxicating really.
But say you're in a relationship and you enter the Bliss Bubble. Is it dangerous? Yeah, it can be. You can become too enamored with your special someone – absolutely head over heels, can't-see-in-front-of-you-because-the-flock-of-pink-floating-love-hearts-is-blinding-your-view – and it can be detrimental to yourself, your friends – and your relationship.
My quick fix? It may seem like the least appealing option, but it's distance. It does make the heart grow fonder. I don't know who said that – but they were right. Couples need time to miss one another. It's fact, no matter how in love you are, spending too much time with anyone on the planet (yes even Ryan Gosling and Oprah) would result in some serious tension and grumpy arm-folding. Time apart from you beau may not seem at all appetising, but take it from me. Living on top of each other is going to do nothing for your relationship. Having semi-separate lives (at least) is integral. It ensures you both keep bringing something new to the table. Allows you to remain best friends who still see a high dollar value on the other.
- because you don't want to end up like one of those elderly couples that wind up having dinner together and literally don't exchange a word the entire time. There's only so much return you can get from a well-cooked T-bone – and it's not amazing conversation. (Let me hear you say "amen!")
Just sayin'.

NQC x
Do you think distance is the key to a flourishing relationship?
Are you guilty of spending too much time in the Bliss Bubble?