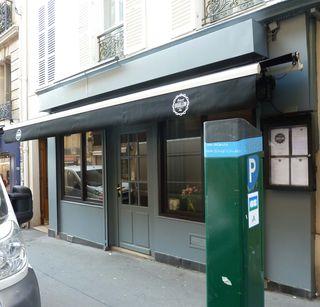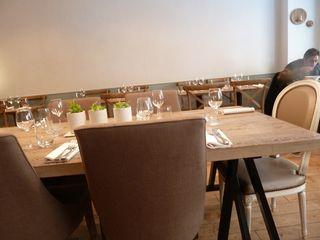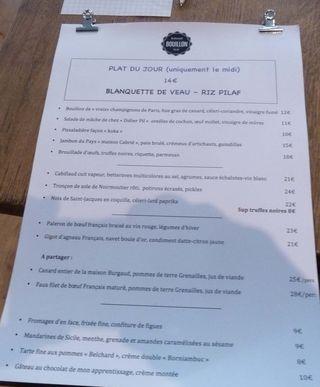 6.75 Bouillon, 47, rue de Rochechouart in the 9th, 09.51.18.66.59, closed Sundays and Mondays, Metro: ah #85 bus best, is described as in Gault-Millau thusly: "Dans ce quartier ou les bonnes addresses se succedent tous les 50 m," and it's true - the area is hopping.  I had to make a rez 3 weeks ago and they turned away about 8 walk-ins.  And for the second day in a row the chef was a Jean-Francois Piege graduate
- Yesterday Nicolas Tessier "ex-second de..." at Les Comptoirs du Medoc and
- Today Marc Favier "discret second de..." at Bouillon.
Is Piege shedding good chefs like a shaggy dog?
The tables are finished on one edge and raw on the other, 80% of the chairs are unsittable-on/in for anyone with a tender back and the toilet seat flips down unexpectedly - but other than that and the lack of sound-dampening (81.7 dB) - it was lovely.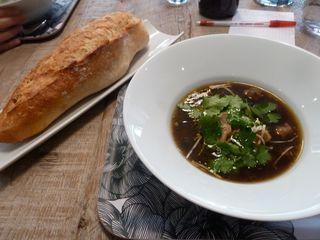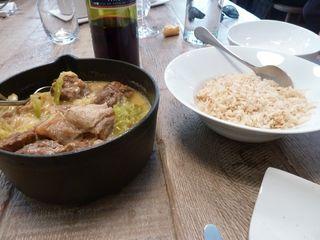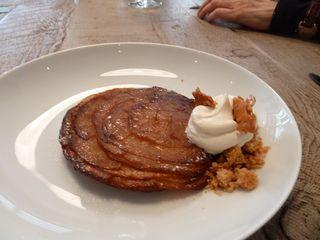 My Chinese-agitator pal, a denizen of this feng-shui-blessed area and I immediately settled on the same superbly sourced and prepared things for this chilly day:
- a bouillon of mushrooms ("true Paris mushrooms," mind you), celery, cilantro, duck foie gras and smoked vinegar,
- a blanquette of veal with lotsa veggies, rice pilaf and a sauce my friend adored,
- an apple tart.  We were very happy campers, indeed.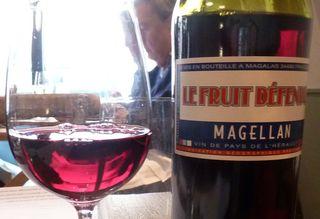 Our bill, with a bottle of great tasting although pallid looking wine, no bottled water, fabulous bread as a demi-baguette and 2 coffees, was 86 E for two of us.
Go back?  In a few weeks with Colette for sure, if I can get in.