After a riot-inducing win over the Canucks earlier this year, the Boston Bruins' Stanley Cup celebrations are finally winding down – but they're certainly ending on a high note.
Last night, the Bruins celebrated their win at the Boston Harbor Hotel's Wharf Room with the entire coaching staff, team, and ownership present to receive their Stanley Cup rings.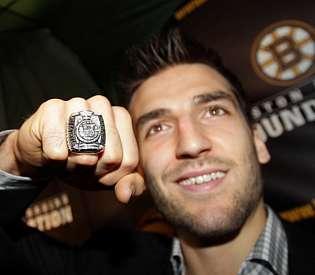 Chitose Suzuki via Boston Herald
The championship rings were opened by the entire team, coaches, and personnel simultaneously, following a speech by team owner Jeremy Jacobs, who commissioned the rings from Jostens.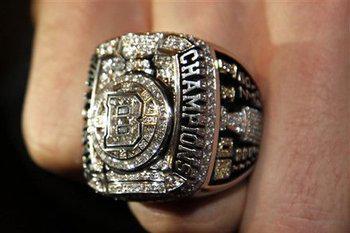 via Bleacher Report
The Bruins' ring features 302 diamonds, including 46 princess diamonds and 256 round diamonds.
The band is inscribed on one side with the National Hockey League's logo in the center of the logos of defeated playoff opponents – the Canadiens, Flyers, Lightning, and, finally, the Canucks.
The other inscription reads: "Full 60+ to History.,'' the team's locker room slogan from 2011.
Team Captain Zdeno Chara told Boston Herald the ring was "beautiful" and that he could tell that "[The team owners] put a lot of thought in it."
Meanwhile Enforcer Shawn Thornton described the ring as ridiculous, but expressed his appreciation for his owners' generosity, saying that it was "probably worth what my parents made growing up."
Jostens, who crafted the ring, said that its diamond count is higher than any other Boston champion teams' jewelry, topping those of the Red Sox, Patriots and the Celtics.
Liz for Raymond Lee Jewelers, your source for jewelry news and trends.