Martin Niemöller:
First they came for the Socialists, and I did not speak out—
Because I was not a Socialist.

Then they came for the Trade Unionists, and I did not speak out—
Because I was not a Trade Unionist.

Then they came for the Jews, and I did not speak out—
Because I was not a Jew.

Then they came for me—and there was no one left to speak for me.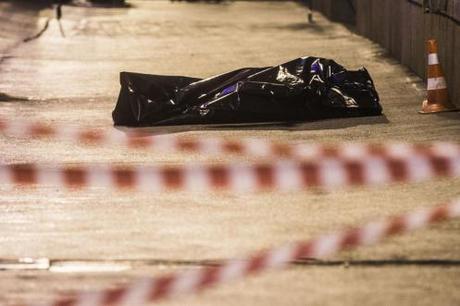 Boris Yefimovich Nemtsov, outspoken Putin critic and leader of the People's Freedom opposition party has been murdered in Moscow. According to the prosecutor's office, Nemtsov was walking across a bridge over the Moscow river, just steps from the Kremlin, when a white car stopped and shots rang out.
Investigators say that Nemtsov was shot in the head, heart, stomach, and liver, with major organs possibly pointing to a professional hit. Investigators have confirmed that he was killed instantly when struck in the heart.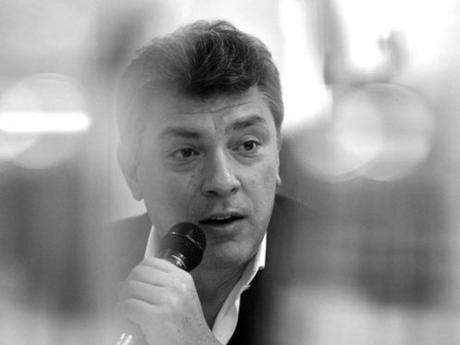 "I want to tell you that in Russia – panic. The panic that people sweep products from the shelves. The panic that it is impossible to buy currency in exchange. The panic that people fired from their jobs. The fact that the government quietly began preparing for the suppression of mass protests "-Boris Nemtsov on Gromadska TV, 18 December 2014.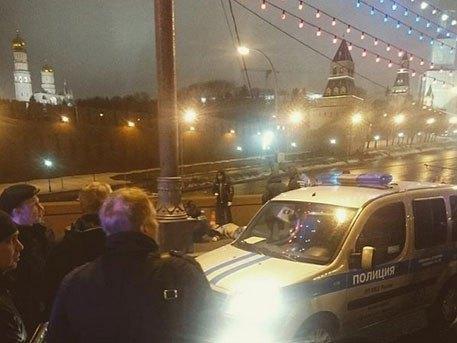 The murder took place late on Friday evening on the bridge just behind St Basil's Cathedral, near the edge of Red Square. He was walking with a companion, an (as yet) unidentified female from Kyiv (Kiev). Eyewitnesses noted the license plate of the car as it sped off, but police have not yet found the vehicle. No one else was hurt. Nemtsov was 55 years old, and is survived by his wife and four children.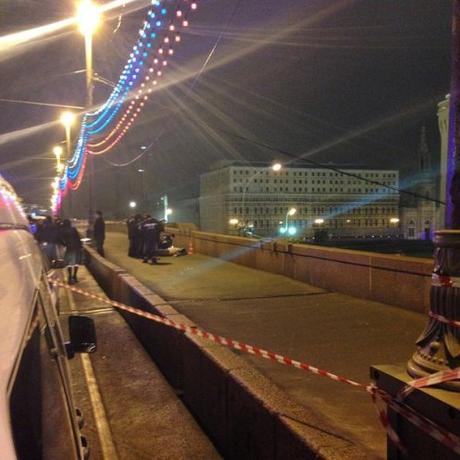 Nemtsov has been a vocal critic of Russia's annexation of Crimea, and of Russia's proxy war in Eastern Ukraine. He was scheduled to lead a major opposition rally in the center of Moscow this Sunday, the first of March. Police had already jailed the other scheduled protest leader, Aleksi Navalny.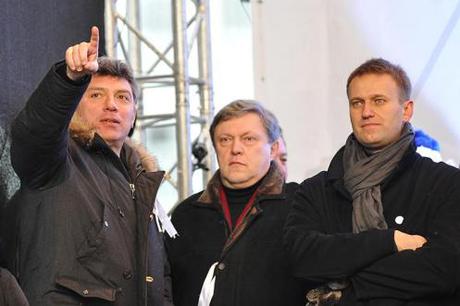 2011 Moscow protest: L-R: Boris Nemtsov, Grigoriy Yavlinskiy, Aleksei Navalny.
Nemtsov had served Russia as deputy prime minister during the 1990s in the Boris Yeltsin government. After leaving office he had authored several reports linking Putin to Russia's organized crime groups. His status, and likeability, had made him one of the country's more popular among opposition leaders.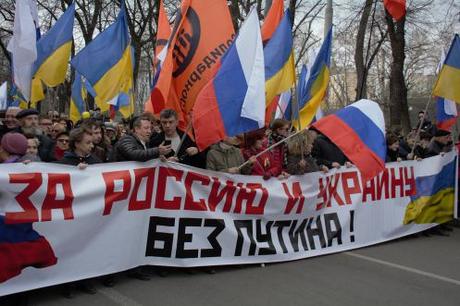 Nemtsov, seen at the front looking at a mobile phone while co-leading a protest on 15 March 2014 to protest the annexation of Crimea and the war in Ukraine.
Russian President Vladimir Putin issued an executive order placing himself at the head of the investigation, and ordered the respective leaders of the Investigative Committee, the Ministry of Internal Affairs, and the Federal Security Service to take over management of the homicide investigation. In the hours following the murder, police raided Nemtsov's home and confiscated boxes of documents and computers.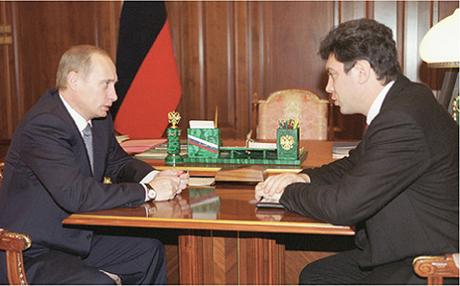 Putin and Nemtsov in the Kremlin, 5 Dec 2000. (Photo: Kremlin presidential press office.)
Putin's spokesman, Dmitry Peskov, called the murder a "pure provocation." He said that Mr. Putin had extended condolences to the Nemtsov family. Peskov's remarks echoed those of Mr. Putin, who himself wasted no time in suggesting that what he termed as a "brutal murder" may have been the work of outside forces to malign the Kremlin's reputation.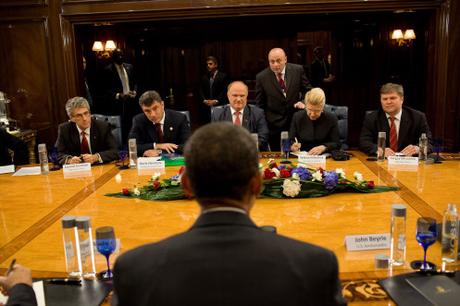 Moscow meeting at the US Embassy in 2009 with president Obama: L-R: Leonid Gozman, Boris Nemtsov, Gennady Zyuganov, Yelena Mizulina, Sergei Mitrokhin.
From Washington, USA president Barack Obama challenged Russia to do a "prompt, impartial and transparent" investigation to bring Nemtsov's killers to justice. In his remarks Obama recalled his 2009 meeting with Russian opposition leaders in Moscow. Obama eulogized Nemtsov as a "tireless advocate" for Russia. Obama concluded by saying that the Russian people had "lost one of the most dedicated and eloquent defenders of their rights."

In reference to his numerous arrests by the Putin government for political activities, the international group Amnesty International has called him a "prisoner of conscience."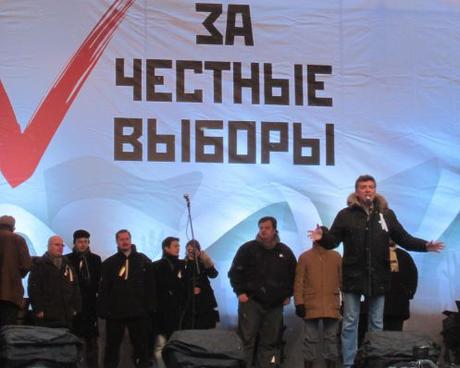 Boris Nemtsov speaking at a Moscow protest rally on 24 Dec 2011.
Nemtsov was one of the original promoters of the "Strategy 31 (Стратегия-31) rallies, a series of peaceful rallies meant to remind Russians of their constitutional right to free assemply, as enshrined by Article 31 of the Russian Constitution. Protests are scheduled in several cities across Russia on the 31st of every month with 31 days. Despite the constitutional guarantee, the government has found reasons to deem each "31" rally to be illegal. The largest "Strategy 31″ rally was attended by some 2,000 persons on the 31st of May 2010. Over a hundred participants were arrested during that peaceful assembly.
Nemtsov had earned his Ph.D in Physics and Mathematics, authored over 60 academic publications related to thermodynamics and quantum physics, and was the inventor of several space products. While one side of his family is Jewish, Nemtsov was an active Orthodox Christian.

In Memorandum:
Into Thy hands, O Lord, Jesus Christ, our God, we commend the spirit of your servant Boris. Comfort, receive, save and grant eternal life in Your presence to your servant Boris Yefimovich Nemtsov. With the saints give rest, O Christ, to the souls of Your departed servant Boris, where there is neither sickness nor sorrow nor sighing, but life everlasting.
Eternal memory! Amen.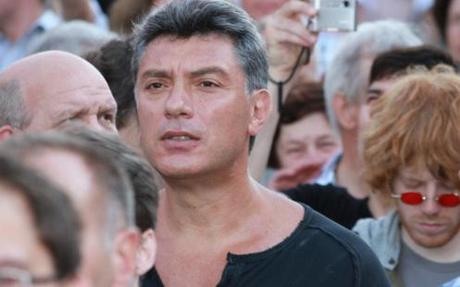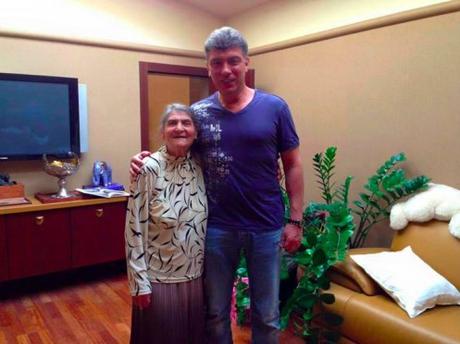 Boris with his Mom.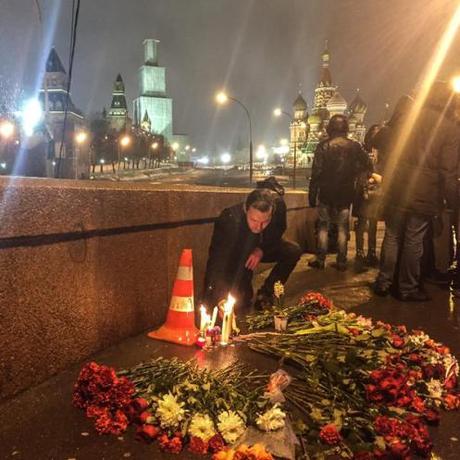 (photo: Evgeny Feldman)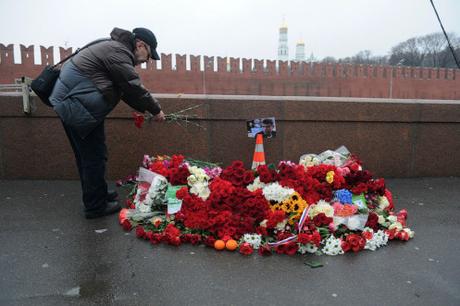 (photo: Ilya Varlamov)