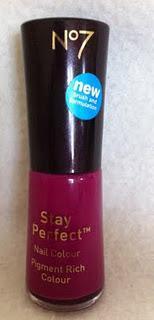 Boots No 7 Stay Perfect in Foxglove
Despite the current economic crisis, sales of nail polish are soaring. A new nail polish is the ultimate guilt free and affordable way to add a splash of color to an outfit. It is also the best way to hide those stress induced nibbled down nails! Isn't it enough that the recession leaves us broke and stressed, does it have to compromise our appearance too? Boot have clearly cottoned on to the dire state of the country's finger nails and has just re-launched Boots No 7 Stay Perfect nail varnish complete with a new brush and new formulation. It comes in such a wide range of colours you are guaranteed to find a shade to update the drabbest of outfits and hide even the worst chewed down finger nails.
Boots No 7 Stay Perfect nail varnish is on sale for £7. This makes it an affordable treat but it is not the cheapest on the market, nor is it the best. The new formulation is watery, making it difficult, messy and time consuming to apply. It requires multiple coats and is hard to get a professional-looking finish if your time is limited. However, if you have the time to spare the pigment-rich color is bold, bright and eye catching with a high gloss finish. It is a shame that this finish does not last as it is not a hardwearing or long lasting polish and chips after just a couple of days. So ladies (and gents) if you find painting your nails therapeutic this could be cheaper than seeing a psychiatrist. However, if like me you get wound up by nails that chip and need regular reapplication, you should avoid this product.
I bought this nail polish with the No 7 £5 off voucher making it a bargain at £2.00. Similarly at the moment it is 3 for 2 on No 7 products meaning you could pick up this product for free. If you like to spend time on your nails and repaint them regularly there are plenty of colours in the Stay Perfect range to keep you occupied.  If you are looking for a fuss free, long lasting nail polish Boots No 7 Stay Perfect isn't the product for you.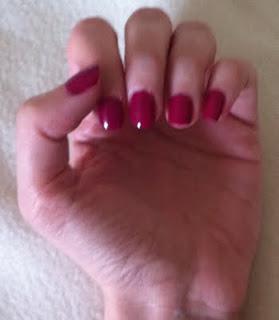 Boots No 7 Stay Perfect Foxglove
Boots No 7 Stay Perfect Nail Varnish Review Product
: Bold nail varnish available in enough shades to match any outfit.
Longevity:
Isn't long lasting with multiple chips after 2 days.
Affordable:
£7.00 means it isn't the most affordable on the market but only £2.00 with a No7 £5.00 off voucher.
Easy to use:
Formulation is watery making it difficult and messy to apply. Requires two coats.
Availability:
Available in Boots stores and online.
The Verdict  5/10 – Claims to be long lasting but isn't.