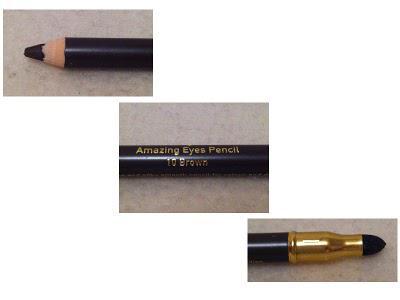 Boots No 7 amazing eyes pencil.
Pencil, shade and sponge.
Every so often Christmas comes early at Boots when they offer the £5.00 off voucher that can be used on their No7 range. Its like a little Christmas for yourself when you can treat yourself and buy something that perhaps you wouldn't buy because it's a little out of your price range. This was the case when I purchased the No 7 Amazing Eye Pencil. Priced at £7.75, in my opinion it is a little expensive for an eye pencil but when the Boots elves sprinkle their customers with £5.00 off vouchers they are a bargain at just £2.25!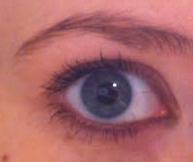 Amazing eye pencil in Brown applied around eyes
 and to inside of the lash line.
However a bargain is only a bargain if the product is good and thankfully Boots No 7 Amazing Eye Pencils are  good .  This super handy item is an eye pencil complete with sponge perfect for smudging to create a softer look. The pencil is soft enough so that it doesn't pull at the delicate eye area and the sponge means that you can achieve a smokey-eyed look easily and quickly. The eye pencil is long lasting when applied to the lash line but does require frequent touch ups when applied to the inside of the bottom lash line. Perhaps one of the downfalls of this product is that it can be a little too soft meaning that the smokey eye effect sometimes looks a little messier than sophisticated and chic. However this can soon be perfected after a few applications.
Perhaps a little pricey when purchased full price but a real bargain investment with a £5.00 off voucher!
Boots No 7 Amazing Eye Pencil Review
Product:
Super handy eye pencil from No7
Longevity:
Long lasting when worn on lash line, needs frequent touch ups when worn inside bottom lash line.
Affordable:
£7.25 full price is a little pricey, £2.25 with the Boots £5.00 off voucher makes it a bargain.
Easy to use:
Sponge is a nice touch for added convenience and easy application.
Availability:
In store and online at Boots.
Would I repurchase:
Yes but only with the £5.00 off voucher.
The Verdict: 7/10 – Great easy to use product but a little pricey without a Boots voucher.