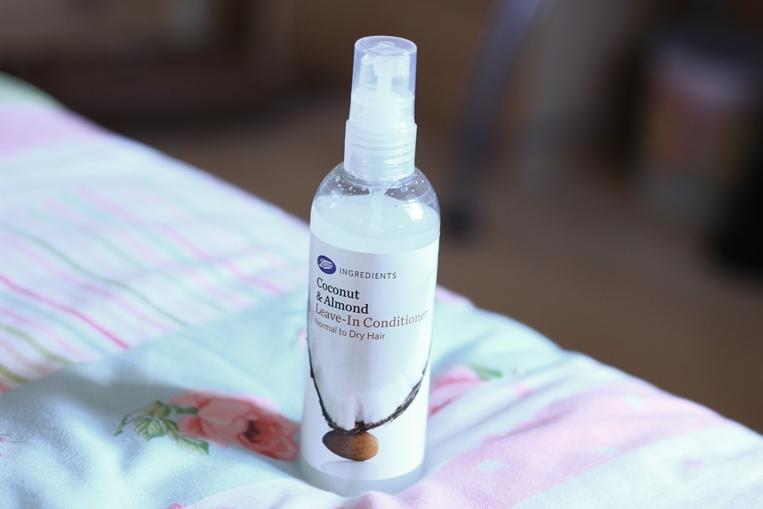 My hair is naturally very tuggy and this has only gotten worse as I've grown my hair which is now pretty long. I seem to get the worst tangles at the back of my head and I put this down to scarves & hoods since they can make the back of your hair sit in weird and wonderful ways, which 9 out of 10 times means a knotted mess for me to tackle when I get home. As much as I love my Tangle Teezer which has been a godsend for my tangled hair, I was looking for a way to give my dry hair an added bit of moisture after washing as I'm sure the dry texture of my hair was only encouraging more knots. I opted for the Boots Ingredients Coconut & Almond Leave-In Conditioner after loving the shampoo & intensive treatment from the same range and I can happily say that I'm still raving about the Coconut & Almond range after using this product. 
This leave-in conditioner is coconut scented (as you'd expect) but what I like is that the smell is quite subtle and doesn't linger for too long in the hair as I'm usually not a huge fan of coconut scents. A bit strange for someone who loves coconut products, I know! I tend to spray a generous amount of the leave-in conditioner on the ends of my damp hair after washing and then comb everything through with my Tangle Teezer to make sure everything is nice and smooth before blowdrying. I've found this product to really help with smoothing out the knots which definitely makes blowdrying a much happier experience as I don't need to worry about my brush constantly getting stuck in knots. Another reason why I've been loving this product is that I've really seen a difference in the appearance of my hair after blowdrying as it's looking more shiny and smooth, with the dry ends and frizzy bits being banished which is always nice.
You'll probably be fed up of my raving now but the last thing I want to mention is the price of this product (& the range as a whole). For products that have worked so well in my hair I'd have been expecting to pay more but believe it or not this leave-in conditioner costs just £1.39 for 50ml. You really are getting great value for money with this conditioner and the rest of the haircare products in the range with the most expensive being the intensive hair mask (reviewed here) at £1.99. A steal or what? You can find the leave-in conditioner in Boots stores & also online.