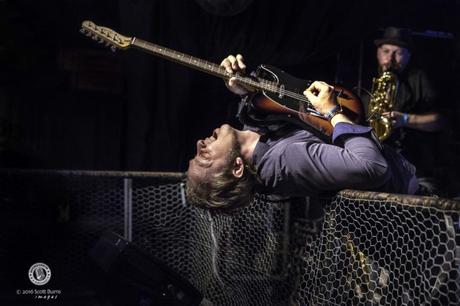 At Sound Check Entertainment, We Love Live! And right now in Toronto, there is no shortage of live music available in all genres as we continued our coverage of Canadian Music Week. This is like the music lover's all you can eat buffet. Today's review comes from the performances at one of our favourite venues, Boots and Bourbon.
On the bill were: Torero, Myla Hardie, Jim Dan Dee, and Anneda. It was another night of really solid and original music. Definitely a little boots and bourbon country, and then a little bourbon and blues thrown in for good measure. Here is my take on this round of the CMW shows.
Things kicked off around 9pm with local Toronto band Torero. They have a really slick, and even sultry country/ country-rock feel and Eleanor Bull can really deliver on vocals. This was a nice showcase for the 6 piece Toronto unit, and they looked like they were enjoying their gig. Given the size of the band, you got a nice full, rich sound. There's a definite female influence here with Tiia Kihlanki providing great backing vocals, but it's not a "chick" band either. They were good and tight and served up a great set, including music from their 2015 self titled LP. I recently caught their video of Bob Dylan's Tonight I'll Be Staying Here With You and immediately looked forward to this CMW show. I definitely will look for their next shows. They've got some upcoming gigs in the area: June 25th at The Dakota Tavern, the Hudson Craft House in Barrie on June 10, as well as at the Sawdust City Saloon in Gravenhurst on June 11th. Umm, yeah, sipping a Sawdust City brew, while in Muskoka and listening to Torero? Count me in.
Next up was Austin, Texas artist Myla Hardie who was accompanied by guitarist Gustavo Chaise. This duo also delivered a spirited set of music that was in contrast to hearing a full band just before them. But it's these changes in sound and pace that I like when listening to a number of different bands in one evening. It keeps things interesting and really sets the artists apart. Again, vocals were front and centre here, and being a duo you had better bring them! And Myla did. She's got a very original sound and can take her vocals from smooth and sweet, then add in some growling dynamics. Great to see you up here in Canada Myla! Be sure to check out her new 4 song EP that will be released this month on Worldhaus Music. www.worldhaus.org
When I mention changing things up a bit throughout a night, well, things got set on their ear when my good friends in the Jim Dan Dee band plugged in. Things got shaking here as the volume dial got turned way up. Starting off with their song F*ked Up, you knew you were in store for something a little different. This really turned things away from the country feel that we had been hearing and what this bar is used to. Jim Dan Dee are self described as "bourbon fueled funkabilly grunge blues". Yep, that covers it! They have fun, and nail it as a band that really has it together. It's in your face and the vibe is amazing. They are original and edgy with some great features to their music such as some really slick guitar and vocals of band originator James Stefanuk, keys and bass of Scott Morris , saxophone playing of Bobby Seweryneck, and the animated drumming style of Shawn Royal. Look for the release of their new single "Luck of the Draw" in June. And on June 25th, they are playing at WTFest in Brantford along with Billy Talent and Monster Truck. It's a guaranteed good time.
Closing out the night was Anneda. Travelling cross-country from Victoria, BC this is one act that also delivered a full on original set of music. Great vocal work, nice guitars and quite simply a great act. Loved them. Anneda (Charlene Birkbeck) originally hails from Ontario, but moved west to BC to continue to establish her music career. Without trying to repeat myself, this is another really tight band that has a great vibe and solid music. I'm so impressed with this showcase from this evening. Charlene is talented, beautiful, and after reading her bio, I find that she's driven to explore the music that she wants to create. I truly appreciate when an artist follows their passion and their heart to create the art that their vision provides. I look forward to seeing what Anneda continues to evolve into. I'm certain it will be amazing.
This was a fantastic night of music and I applaud all the artists who took part. Thank you for completely entertaining me.
More photos from the night at Boots and Bourbon:
Scott Burns / Scott Burns Images