KX Country and Boots & Hearts teamed up to bring the biggest Country Show to CMW. With the likes of red hot Meghan Patrick and a band that had by far one of the best performances of last years Boots and Hearts Festival with Blackjack Billy taking the headlining honours. For those of you that were part of that 30,000+ Kick off party you will know that the boys in BJB tore the roof off the Front Porch stage on that beautiful Thursday night.
This night started off with Barrie's own Kansas Stone. If you haven't had a chance to catch these guys yet I would suggest you get on that. The raspy voice of lead man Brian Vain mixed with the cool sound of Matt Davey wailing on guitar makes this band one to watch. We had a chance to do a Mason Jar Session with these boys a couple months back and was happy to see them kick the party off. The boys are scheduled to play a set at Havelock this year and I am sure there will be more dates announced as we get closer to summer. From the opening lick to the last chord these boys bring it. And on this night Brett Kissel's Matty McKay sat in with the boys and did a fine job.
Next up was another GTA artist that I have grown very fond of over the last year or so. Dani Strong has one of the coolest, kick ass voices and she and her band brought the good shit on this night. The last time I saw Dani was at the last KX Country event where she opened for Jess Moskaluke and Madeline Merlo. On that night it was just Dani and Gina playing us a few (2 or 3) songs and then quickly rushed off stage. Not on this night. Dani brought the full band and let me tell you they know how to play. I have been fortunate enough to hear a few of Dani's songs recently and there is one song in her set that totally blows me away. Where the Heck is Dixieland is one epic tune and they spun it a bit on this night by working in a little Jackson 5 into it and it had the crowd singing along. Dani put on a hell of a set and truly believe she is one of the best unsigned Canadian artists.
After Dani followed Boots and Hearts 2015 Emerging Artist Showcase Winner the James Barker Band. Now other than seeing the James Barker Band last summer at Boots I haven't really seen or heard much from them. I was told by an industry colleague that they were a band that I wouldn't want to miss and she hit the nail on the head on that one. James and the boys ripped up the Phoenix for a heck of a set that had a great medley of covers along with some solid originals. James has a new song about to hit radio soon and this one might just make it in the top 10 jam songs for the summer of 2016.
On most nights you would likely be ready to go home after seeing 3 bands. Nope not here, we were only half way through the line up. Eric Ethridge was next to hit the stage and for those of you who aren't 100% sure who Eric Ethridge is. It is in my opinion that Mr. Ethridge is the best unsigned Canadian male artist. Eric came runner up to the very talented James Barker last summer at boots but it seems that Eric hit his stride with some absolutely AMAZING YouTube videos with covers of Andy Grammer's "Honey I'm Good" and his most recent and I personally think his best yet cover of Charles Kelley's " Leaving Nashville " a song written by Donovan Woods who is also from Southern Ontario so just seemed like a perfect song. Eric and the boys tore up the floorboards on that stage at one point I was a bit concerned that Megan or Blackjack may not have a whole lot left to pay on. Ok, it wasn't that crazy but seriously this band is Tight and knows how to impress a crowd. If you get a chance to catch Eric at a festival this summer (Sound of Music Festival - Burlington as well as Trackside in London to name a couple) You won't be disappointed.
One of the hottest artists in Canadian Country music was next to hit the stage. Bowmanville's own Meghan Patrick. Meghan is hot off the release of her debut album Grace & Grit and a top 20 single with Bow Chicka Wow Wow, which was co-written with fellow Canadian Chad Kroger of Nickelback. I hadn't had a chance to see Meghan perform since last year at CMW. Still remember that night when she performed for a small room of industry folks at the Supermarket. Meghan put in a great set that night, but funny what a difference a year makes. After signing with Warner Bros. Canada and then managing to wrangle the likes of Vince Gill and Chad Kroger to name a few of the high profile artists that help contribute to the making of Grace and Grit. Meghan also had honed her on stage a bit too it seems The girl was ready to party and I mean that. Beer in one hand and the guitar in the other she knew what the crowd had come for and she didn't disappoint. A spirited set that had the makings of a great set for the festivals this summer. If the crowd singing along to Bow Chicka Wow Wow is any indication of how the rest of the album is going to go we shouldn't be surprised. Don't miss Meghan this summer at Boots & Hearts.
And then as the clock struck 11 pm it was time to bring out the crowd favourite from last summers Boots and Hearts Kick Off Party Blackjack Billy! The boys are currently promoting a new single just released to country radio up here in Canada called Tread and they just so happen to hammer that one out for a Mason Jar Session that will be coming up soon. Now if you were at the show last summer at B&H you will know what I mean when we talk about "Crowd" favourites. I mean they had the 30,000+ fans just rockin' that night. Noll & Jeff really know how to interact with the crowd and they know what the people have come to see. Party songs, that they can get lost in for the 70+ min set and just enjoy the fun of the concert. When the boys broke into a great sing along of Tim Hick's Stronger Beer I think the crowd may have hit some pretty high decibels singing along to the one. And then when the first bar of Booze Cruise was played well. The place erupted and you could totally see the energy from the crowd lighting up the boys in the band. And you can beat your ass the boys will be back this summer from Cavendish to Manatoulin Country Fest and everything in-between there is a good chance you might get a chance to see them.
Here is a cool video of Blackjack Billy covering Tim Hicks Stronger Beer when Noll took our GoPro and had a lil fun with it. Thanks for that Noll!
What a great night of music. We want to thank the amazing folks over at KX Country and Boots and Hearts for having us. As well would also like to thank the CMW crew for being ever so helpful when asked. For more great shows this week check out the CMW Website HERE...
Corey Kelly / @CoreyKelly76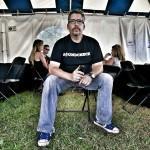 Born and raised in small ltown Ontario, Love me some Whisky & Country Music. Blogger, Photographer and Country Music Junkie.