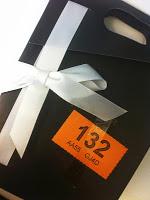 Hello lovely people! 
Recently as I mentioned in my previous post, I went out to pick up a few birthday bits for my mom. When I went into Boots to choose a few presents, at the till the woman asked me if I wanted to enter their raffle. I entered the raffle and she said that I also was able to take a shot at the lucky dip. I don't usually have much luck, so I wasn't very hopeful! I picked out a number and guess what I won?
A make-up goodie bag courtesy of Max Factor with some products inside! The products I got in my little bag were: Colour Exilir lip crayon in "Foxy Amber", Masterpiece Max High Definition & Volume Mascara, Whipped Creme foundation sample in Natural and Barry M Limited Edition lip gloss (No shade). I couldn't contain my smile
! 
The mascara mentioned is similar to the Max Factor Volume Million lashes although it has more of a "wet" finish, I cannot wait to try this mascara out for a full day. I love the lip crayon, it has a deep pink shade, with a bold finish. Unfortunately I have already tried the Whipped Creme foundation and I wasn't keen on the texture of the product. I will most likely pass this product on to one of my friends, if not I will find a way to make it work. Last but not least, the Barry M lip gloss- this product doesn't have a shade although when swatched it appears clear. I love the creamy texture of this lip gloss and think it will be perfect to pop in my bag for college.
Thanks for reading guys!

x