Hey guys!
I hope you all have had a great week so far.
I kind of feel like I have been a little disoriented from the time change. It's been a ROUGH one..
I have a fun, full body workout for you all today. I did something similar to this in my boot camp class this week and everyone really felt the burn, even me!
How to do the workout:
In this workout, you will perform each exercise back to back with little to no breaks in between.
There will be 5 rounds. the first round you will do each exercise for 20 seconds. In the second you will do them for 30 seconds, third round for 50 seconds, fourth round for 30 seconds and the last round back down to 20 seconds.
Take a 30- 60 second break after each round.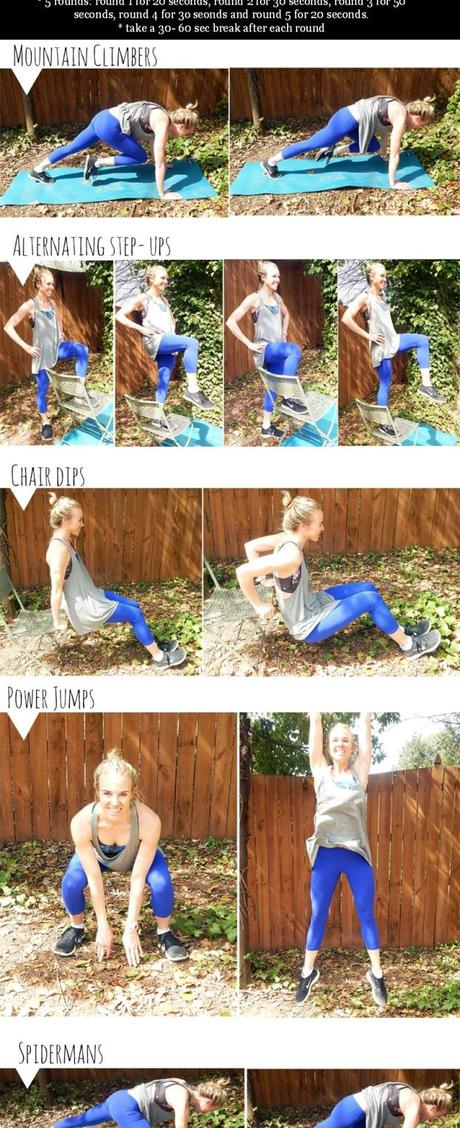 Mountain climbers
Alternating step- ups- step with left foot on chair and bring knee to chest. Bring your feet back down to floor and repeat on alternating side.
Chair dips 
Power jumps- Start in squatting position with knees bend and hands touching the floor. jump up, bringing your hands to the ceiling and when you come down, come down right back to the squatting position and repeat.
Spidermans
Has the time change effected you at all??