Wow what a weekend that was. It started out with a dreary and pretty run-of-the-mill Friday, and just got crazy from there. On Friday afternoon we learned of a cold front that was to come through over the weekend that may bring some snow squalls. We live in what is called the "snow belt" here in southwestern Ontario, so we didnt think much of it as we always get snow. I was expecting  a little more than a dusting, but we will get to that…
Saturday morning Jay and I went out looking for a festive decoration for our door and to see what kind of ornaments are available this year. After breakfast we bundled up (because it was chilly!) and headed out. We found some cute ornaments to add to our tree including some cute little footballs for the resident football fan, some shiny red snowflakes and a super cute owl. We also found a sparkly gold snowflake to hang on our apartment door. We also purchased a clear ornament to put my TUSAL threads in (even though I have dropped the ball posting for it, I plan to have a December post in before the year is out).
The first squall started to blow through while we were in the first store, but it blew through quite quickly and there wasn't much accumulation. We managed to get all of our shopping in before the real snow began!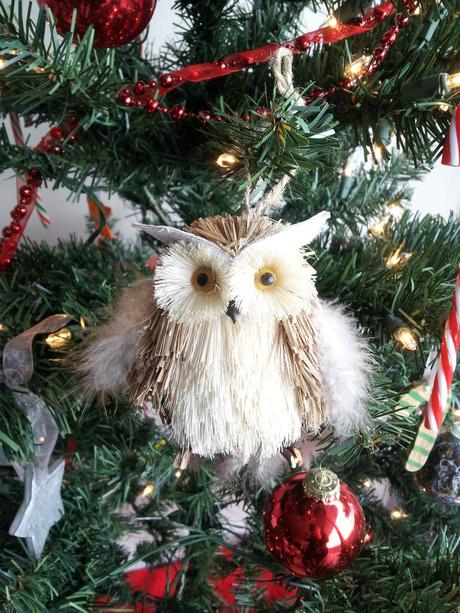 The first significant squall line started to come through around 2:30pm, at which time we had tucked in for the watching of the Doctor Who 50th Anniversary Special (which was fantastic by the way). We were home around 2pm, and were able to put up our new ornaments and our door decoration. But back to the snow. Oh boy did it snow! It snowed heavily almost nonstop for the rest of the day, through the night to the following early afternoon. We woke up to a proper winter wonderland.
Jay woke up super excited on Sunday morning wanting to go play on the snow with his truck. He talked me into going with him, so he went out and spent the half-hour I spent getting ready to unbury the truck in the parking lot. The timing worked out kind of perfectly, so I bundled up and we went on our way.
The truck was cleaned off, but the box was jam packed full of snow. The parking lots and roads and sidewalks hadn't been ploughed yet, and in some areas the snow was easily waist high. Thanks to the 4×4 we had no issues getting going. We blazed our own trail down the roads seeing several people stuck along the way. London Transit was still running for some reason, the even the buses we saw were having some serious trouble staying in motion. Our drive culminated with doughnuts in an empty yet snow-filled parking lot and a drive down the road toward the nearby park. It looked like a quiet country road though it is actually a very busy city street. I will admit, though I was initially hesitant it turned out to be a fun trip and the snow hadn't even finished coming down yet.
The snowfall ended right around noon and the ploughs started getting things cleared. We had a fun afternoon of visiting with friends, hot chocolate and chili, and an evening tucked in watching Jay's team lose in the Grey Cup (think the Super Bowl of Canadian football, if you've never heard of it.)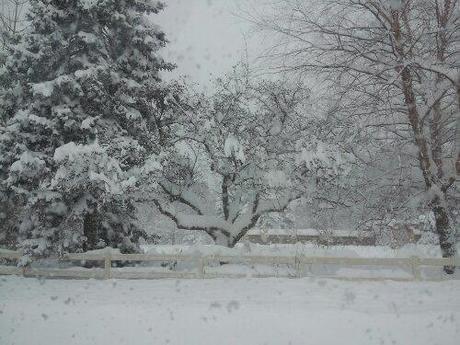 The snow was absolutely beautiful when we woke up on Sunday and everything was so quiet and peaceful in the beginning. I was sure I was ready for snow, and certainly not so large an accumulation as we received. Now that it's here though, I do hope it stays!