Every now and then I either DNF a book for various reasons or it's a book I finished but won't be taking the time to do an in-depth review of. Here are some recent ones:
YA: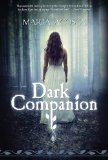 Dark Companion by Marta Acosta
When foster teen Jane Williams is invited to attend elite Birch Grove Academy for Girls and escape her violent urban neighborhood, she thinks the offer is too good to be true. She's even offered her own living quarters, the groundskeeper's cottage in the center of the birch grove.
Something's not quite right about the school -- or is it Jane? She thinks she sees things in the birch grove at night. She's also beginning to suspect that the elegant headmistress and her sons are hiding secrets. Lucky is the gorgeous, golden son who is especially attentive to Jane, and Jack is the sardonic puzzling brother.
The school with its talented teachers and bright students is a dream for a science and math geek like Jane. She also loves her new friends, including hilarious poetry-spouting rich girl, Mary Violet. But the longer Jane stays at Birch Grove, the more questions she has about the disappearance of another scholarship girl and a missing faculty member. 
Jane discovers one secret about Birch Grove, which only leads to more mysteries. What is she willing to sacrifice in order to stay at this school...and be bound to Birch Grove forever?
The writing in this book was beautiful, but I struggled a lot with the main character and ultimately didn't finish reading it. If you poke around, the reviews on Dark Companion tend to be very polarizing - people either love it or hate it. I found it "eh" and for a very specific reason. I probably would have finished it, but I've been struggling with reading and blogging lately and have sworn I won't force myself to read any book I'm not enjoying.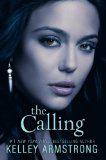 The Calling and The Gathering by Kelly Armstrong
Maya Delaney's paw-print birthmark is the mark of what she truly is -a skin-walker. She can run faster, climb higher, and see better than nearly everyone else. Experiencing intense connections with the animals that roam the woods outside her home, Maya knows it's only a matter of time before she's able to Shift and become one of them. And she believes there may be others in her small town with surprising talents.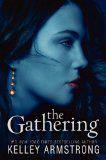 Now Maya and her friends have been forced to flee from their homes during a forest fire they suspect was deliberately set. Then they're kidnapped, and after a chilling helicopter crash, they find themselves in the Vancouver Island wilderness with nothing but their extraordinary abilities to help them get back home.
I love this series and Kelly Armstrong's writing. For some reason I never review these right after I'm done reading them and by the time I get around to doing it, I just can't remember everything other than they're fast paced and a lot of fun to read.
ADULT: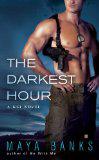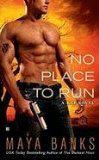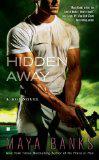 The Darkest Hour, No Place to Run, and Hidden Away (KGI #1-3) by Maya Banks
The Kelly Group International (KGI): A super elite, top secret, family-run business.
Qualifications: High intelligence, rock hard body, military background.
Mission: Hostage/kidnap victim recovery. Intelligence gathering. Handling jobs the US government can't…
This is a really fun romantic suspense series that follows the adventures and romantic lives of the Kelly brothers. Well written and a lot of fun to read.