As 2012 comes to a close, I've been thinking about which books and/or authors I've most enjoyed this year. With the proliferation of e-readers and free Amazon Kindle apps for your phone and PC, if you haven't already – expand your horizons, read a book today.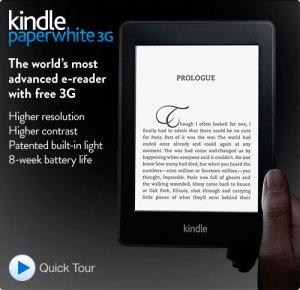 Never thought I'd say how much I love my Kindle and yes, it's overtaken my love for a printed book. It's super easy now to take a small e-reader to the beach, on vacation, work, etc. and have all my books at my fingertips not to mention instant gratification to get a new one after trying a free sample by clicking a button. I can stay in my jammies and never leave the house at midnight because I just have to have that next book in the series.
Below in no particular order are my faves for this year:
JR Ward Black Dagger Brotherhood series
Deborah E Harkness Discovery of Witches and sequel
George RR Martin Game of Thrones series
Kim Harrison Hollow series
Sherrilyn Kenyon Dark Hunter and Born series
Diana Gabaldon Outlander series
Fifty Shades of Grey trilogy
Elizabeth Hoyt Maiden Lane Series
Patricia Briggs River Marked
Margret Maron Deborah Knott series and way too many more to mention…
So I have to wonder, do you still read paper books? Do you have an e-reader or Kindle app? Plan to ask for one for the Holidays? If you do read e-books, do you only get from the library? Yes, you can get e-books from the library for your e-reader. If you buy e-books, what's your price point for e-books? .99 – 5.99? What do you want to see from authors and who is your favorite?  I know, a lot of questions but I'm a curious sort…
Cheers!