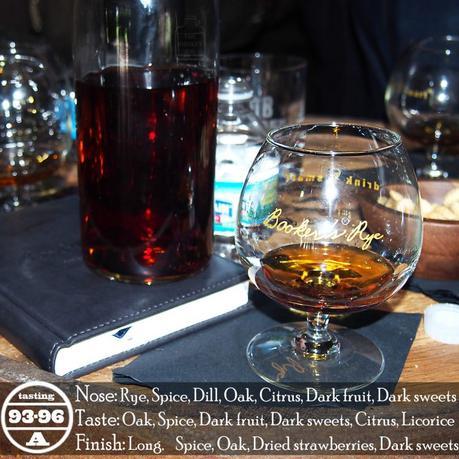 Booker's Rye is a 13-year-old, cask strength, non-chill filtered rye whiskey that was laid down in 2003 by Booker Noe, the late Jim Beam Master Distiller. This was one of the last things Booker worked on before his passing in 2004 and comes from a mashbill that's a lot higher in rye content than the traditional Jim Beam Rye which is a barely-legal 51% rye whiskey. On a side note Fred followed in his Father's footsteps and hand wrote the Booker's Rye label.
Talking to Fred Noe about the mashbill there's a bit of confusion about what exactly the mashbill is for the Booker's Rye. When looking through Booker's notes for experiments around this time they found two different mashbills listed. One that has a rye content in the 70s and one that has the rye content in the 80s. So while they didn't have the exact mashbill for the Booker's Rye available for us at the tasting they were able to say with confidence it's over 70% rye, making this a truly unique offering from Jim Beam.
In addition to being a unique mashbill distilled by the late Booker this special edition is limited and no, it's not limited in the way that Diageo calls their Orphan Barrels limited; there won't be 10s of thousands of bottles of this hanging out in the market. They had just begun to bottle the Booker's Rye when we were there so they didn't have a bottle count yet, but what we do know is that Booker laid down less than 100 barrels split between his two favorite warehouses (D&E), some of the barrels were nearly empty from evaporation and Fred is bottling it all. There will be no Booker's Rye Batch 2 and with that, it's on to the Booker's Rye review!
Booker's Rye Info
Region: Kentucky, USA
Distiller: Jim Beam
Mashbill: 70%+ Rye, 30%- Corn and Malted Barley
Cask: New Charred Oak
Age: 13 Years
ABV:
Cask Strength | Non-Chill Filtered | Natural Color
Batch:1
Price: $300
Booker's Rye Review
EYE
Ruddy caramel
NOSE
There's not mistaking this is a rye. A powerful complex ball of spice bowls out of the glass. Cinnamon, anise, nutmeg, pepper and dill followed by layers of oak, citrus, dark fruit, dark sweets, vanilla and a light bit of an almost pine-like herbal quality. Damn.
PALATE
Oak planks plop down first, laying the path for that complex ball of spice to come rolling down and is again followed by dark fruit, dark sweets and citrus peels. As it fades out and heads towards the finish it picks up a bit of waxy licorice and an herbal bergamot-like quality. Double damn.
FINISH
As long as a Kentucky summer and layered with notes of spice, oak, dried strawberries, dark sweets and a mild herbal character.
BALANCE, BODY & FEEL
Fantastic balance, full round body and a heavy oily feel. The Booker's Rye has some real weight to it.
OVERALL
Booker's Rye is the rye whiskey that Jim Beam should be putting out on a regular basis. The higher rye mashbill combined with the longer aging and higher proof creates a stunner of a whiskey. Across every sense it's rich and full – packing dense layers of aroma and flavor into every sniff and sip. This is the kind of beautifully structured whiskey that rye lovers like myself search for and it all stemmed from a well crafted experiment. It's too bad Booker never got to see how it turned out.
I understand that it would be a large, long term, undertaking to make Booker's Rye a new project for the distillery, but its a project that I think they could undertake and do quite well with in the future. Not that we truly need another high priced yearly limited release, but at the scale Jim Beam distills at they definitely have the resources to undertake something like this and while they're waiting for batches that could be labeled as Booker's Rye to age they could always release some lower proofed younger (4ish years) releases along the way. It would be great to see Booker's Rye become a regular release… in 13 years.
SCORE: 93-96/100 (A, not consumed at home)
*Disclosure: I tasted this Booker's Rye while on a press trip for the launch of the Booker's Rye at the Jim Beam Distillery.