Booker's Bourbon BBQ Batch is the latest release in the venerable Booker's line which always has been, and continues to be, in my upper pantheon of killer available whiskeys. You can add to that Blanton's, Four Roses Single Barrel, Russell's Reserve Single Barrel, Henry McKenna 10 and Maker's Mark Cask Strength. These are whiskeys I can walk into a store, grab a bottle and know I'm walking out with quality and known pedigree.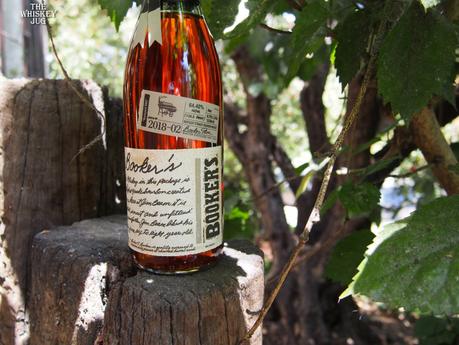 Which is important these days. There's so much out there that's good or ok, but priced way off because they hide where it comes from and instead of history and quality they use a BS story and some nice looking labels to try and sell their whiskey. I'm not saying the old guard are flawless, but they're reliable, identifiable and, often, a great value. I can't ask for too much more than that these days.
Booker's Bourbon BBQ Batch Review: Details and Tasting Notes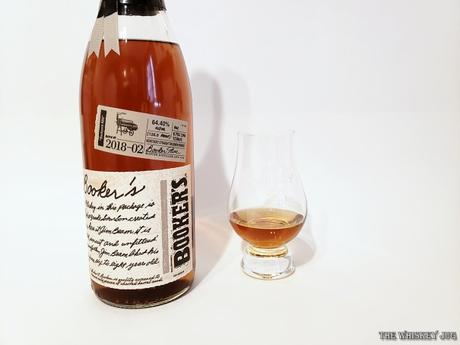 In Jim Beam's Words: Booker's Bourbon BBQ Batch
"Booker's "Backyard BBQ" is named in tribute to Booker Noe and his love for hosting good, old-fashioned cookouts for friends, family, neighbors and distillery employees in his own backyard in Bardstown, KY. Booker always made sure his "Bourbon-ques" were complete with plenty of good bourbon and enough of his famous, sizzling flambéed pork chops to go around. A cookout by Booker wasn't complete without them! Today, Fred Noe and his son, Freddie, carry on this tradition and host their own "Bourbon-ques" — with bourbon and flambéed pork chops, of course — throughout the summer for all to enjoy."
Booker's Bourbon BBQ Batch price, ABV, age and other details
Region: Kentucky, USA
Distiller: Jim Beam
Mash bill: 77% Corn, 13% Rye, 10% Malted Barley
Cask: New Charred Oak
Age: 6 years 2 months 10 Days
ABV: 64.4%
Cask Strength | Non-Chill Filtered | Natural Color
Batch: 2018-02
Price: $75*
Booker's Bourbon BBQ Batch Tasting Notes
EYE
Caramel
NOSE
Oak, caramel, banana, peanut, toast, dried cherries, flour, spice and a bit of menthol.
PALATE
Roasted peanuts, caramel, spice, oak, char, dried dark fruit, cocoa and smoke and oil.
FINISH
Long -> Spice, nuts, oak and dark sweets.
BALANCE, BODY & FEEL
Good sense of balance, full round body and a warm oily feel.
Booker's Bourbon BBQ Batch Review: OVERALL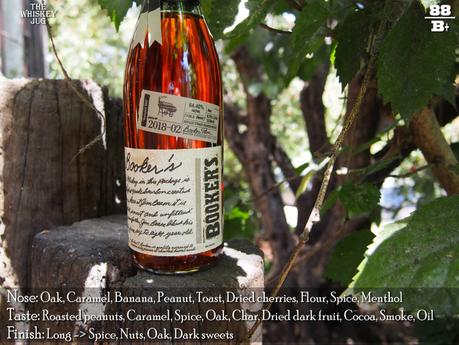 The aroma of the Booker's Bourbon BBQ Batch is heavy and full and filled with the kind of deep notes you want in a rustic bourbon profile. The palate fills a similar niche but does so with peanut overtones and dark fruit undertones. The finish splits the middle with a bit more spice and it as a whole experience it's just plain… pleasant.
I've never been let down by a Booker's and this is continuing that unbroken string of reliability; quality you can set your liver to. Sure some are better than others but it's a name that's so synonymous with bourbon quality to me that I know I can grab a bottle, any bottle, and be happy with the liquid inside.
SCORE: 88/100 (B+)
*Disclosure: This Booker's Bourbon BBQ Batch was graciously sent to me by the company for the purposes of this review. The views, opinions, and tasting notes are 100% my own.
Booker's Bourbon BBQ Batch Review
Nose -

88

Palate -

88

Finish -

88

Balance, Body & Feel -

88
88
Booker's Bourbon BBQ Batch Review Summary
Booker's Bourbon BBQ Batch is great, but what else would you expect?
Sending
User Review
0

(

0

votes)
Comments Rating
0

(

0

reviews)