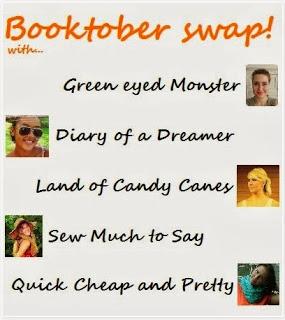 My friends
Katrin
and
Martha
(along with three other awesome ladies) are hosting an amazing swap - Booktober!
The idea is to swap books with another blogger - you'll be paired up with someone who has similar tastes and will be able to chat with them before the swap so you can find an appropriate book. If you want, you can even throw in one of your faves, too - I'll probably get carried away and include tea and snacks to go with the reading experience! Here are the details:
The swap is open to all active bloggers and it is international.
The swap opens on the first of October and closes on the 12th (so hurry up and join - you've only got until tomorrow!)
Your swap partner will be send out by October 17 and the packages must be in the mail by the end of the month. 
Bloggers will be sent their match's email address so they can discuss the books they like best and swap mailing addresses; they can swap new or gently used books.
That's it! Head over to Katrin or
Martha
's blogs for more details, or go
here
to sign right up!