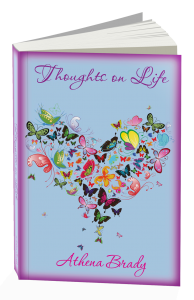 Thoughts on Life by Athena Brady
Thoughts on Life is a bite sized book full of inspiration. Athena's writing contains a wealth of common sense wisdom which is a great compliment because common sense tends to be far from common. The book touches on the subjects of money, gratitude, authenticity and self acceptance, abundance consciousness, healing from abuse and shifting our perception. All of these are handled with care and presented in an easy to understand manner that can be put into practice right away. These are topics that are close to my heart and it always makes me happy to see them being talked about and proliferated.
As a student of Stoic philosophy I was impressed with Athena's assertion that it's all about "where we are coming from". Our experience of our circumstance is determined by our own perceptions, beliefs and opinions. This is an incredibly powerful statement as we have a great deal of control over perceptions, beliefs and opinions, therefore we have a great deal of control over how we feel about any given situation. Athena also repeats the point that whatever we focus our attention on will grow and multiply, so we should be sure to remain focused on those good things that we wish to see more of in our lives.
Thoughts on Life is a great little resource of happiness and encouragement, I have no problem recommending it. I would recommend it especially to those who have suffered any form of physical, psychological or sexual abuse as a child or an adult. The author provides supportive words and points the way to resources that can be of great help to someone in that position. Those who are being bullied or abused need to seek the right kind of help, get out of that situation and get back to living with love, dignity and purpose.
Definitely worth a read! 5 Stars

Rohan.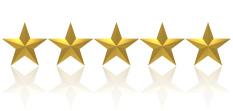 Click Here to Preview or Purchase Thoughts on Life on Amazon
Athena's links:
Red Circle Days by Leah Vidal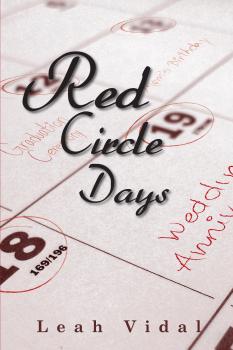 Red Circle Days is a collection of short anecdotes which all contain a theme, a message. This message is always positive and always thought provoking. A question at the end of each story asks us to ponder on the central theme and take a moment to ask serious questions about our lives, our dreams, our hopes, our challenges, the importance of friends and family and much more. There is a lot to like about this book, and definitely something for everyone. The thing that stood out most for me was Leah's tales of childhood, both her own and that of her kids. There are some really touching and profound moments that brought a smile to my face and reminded me of the preciousness of that period in our lives and how important it is to nurture and support that delicate stage in the children we engage with.
Having been home schooled for the longer part of my childhood I felt a close connection with the stories of family life. Here in Ireland a current affairs program was aired recently in which journalists went undercover into Ireland's top crèches and Montessoris. It was shocking and disturbing. Children we strapped into chairs for hours on end, tossed about, slammed into chairs and screamed at by untrained workers. Over half of the crèches in this country have been reported to be in breach of the regulations, and many others are not inspected at all. Anyway it's encouraging to me that people like Leah are taking an active role in the education and development of their children. The ages of 0 to 3 are the most important regarding child brain development, the years from 4 to 7 are the second most vital. Get these years right and the youngster has a much better chance at doing well later on.
Red Circle Days is funny, heart warming, tragic and everything in between. It captures the sadness and beauty of life in the simple things we can all relate to. Ultimately it is inspiring and hopeful, I came away happier for reading it

Well worth checking out! 5 Stars

Rohan.