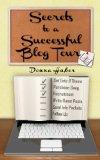 First, it's not a book. It's a pamphlet aimed solely at promoting the blogger (notice there isn't a page count) who operates a publicity company (for less than a year I'd say). It would make a nice glossy promotional brochure. The first 5% is a dedication which makes this just bones, not even skin, so don't waste your dollar.
Go to her blog instead because she didn't even pull the useful information there for free to fill this out with which would have made far more sense.
The formatting is wrong. On the Kindle Fire all you'll get is a wall of text. Block paragraphing should have a nice space to break that up. She lacks the know-how to structure a non-fiction book. [insert anything] for Dummies has that down to a science.
I LOVE how people try to make themselves out to be authorities on a subject by inventing distinctions that don't exist. There is no distinction between a blog tour and a virtual blog tour and legitimate blog tour companies have been using both terms for a while now. If the blog tour you are on won't promote through social media there is a problem and that includes coming up with Twitter parties, Facebook parties, G+ hangouts, Goodreads events. There are even blog tour companies that charge extra for these services.
The other point I find egregious is her insistence that she had anything to do with EL James and 50 Shades of Grey success in any capacity. I humored her and never questioned it, but lets take a look at the Internet footprint to her claims.
http://www.smh.com.au/entertainment/books/fifty-shades-of-success-20120824-24rel.html#ixzz2WcIB4iuZ - it appears that Amanda Hayward was the brains that started it and made oodles of money and you'd think if this author played such a large role as 'marketing director' they would have been happy to continue with her.
No.
Here's what I could find:
https://www.facebook.com/events/218580881530424/?hc_location=stream  2 people attended.
http://bonafidereflections.com/2011/10/fifty-shades-darker-tour-working-with-e-l-james.html  A blog post she wrote herself describing working with EL James. Just love those Britishisms.
http://www.thewriterscoffeeshop.com/library/viewuser.php?action=reviewsby&uid=803  Here's her work on the Writer's Coffee Shop Forum.
http://www.publishersweekly.com/pw/by-topic/industry-news/people/article/54956-e-l-james-pw-s-publishing-person-of-the-year.html  A nice Publishers Weekly breakdown of exactly what happened with EL James and sadly the author is not mentioned once.
I know this blogger. Worked with her for almost two years. I founded the group she referenced at the beginning and left it when the book bloggers became unscrupulous. Does working with a group and incorporating every idea shared communally into a product that you then try to sell ethical?