Let me start by saying that the book's cover has enamored me the first time I saw it on the shelves of National Bookstore. At that time, I wasn't scouring the market for new books because I was saving for our trip to Singapore (yes, it's an expensive city). But I promised myself I'd get a copy as soon as I could. And I'm glad I eventually did but not for the reasons I originally thought.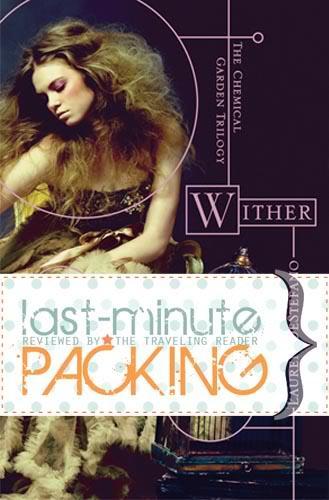 This review contains spoilers so proceed at your own risk.
In the not-so-distant future, life expectancy is affected by a rare kind of genetic anomaly: females can only live up to 20 years old, the males up to 25. This was after a period of celebration when science was able to find a cure for all diseases that everyone was virtually healthy (and hospitals had few or even zero patients). Horror of horrors, when the offspring of these very healthy individuals started suffering from shorter lifespans. And so begins the story of Rhine, a 16-year old girl who was kidnapped as a broodmare to an influential family. She was forcibly married to Linden Ashby whose first love is on the brink of death. Rich families are privileged and often encouraged by their society to take on as many wives as they can to perpetuate their lineage (which is kinda absurd considering they will die in a few years anyway). Hence, dear Rhine was to become a sister-wife to Jenna and Cecily who were likewise abducted.
The novel, while beautiful in its own way, was not free from "flaws"; some people would attribute it to the author being a novice, others to a plot not well executed. It's not so much that the controversy of one of the characters having many wives but it's how the author dealt with it. I was honestly shocked when Linden was sleeping with 13-year old Cecily (sex at 13??? really???) but I got over it thinking that Lauren DeStefano must have thought that that will contribute to the story. So yeah, it eventually it did but the shock stayed with me (haha…for a virgin, sex at 13 can be quite shocking…hehe) Another thing, I think the author dawdled too much on descriptions of dresses and while that's somehow necessary but having your main character ponder on that on and on and on instead of having her devise plans or actually escaping or being punished for attempting to escape, now that would have been more appetizing. You see, I'm an "action" kind of person so I'd appreciate a story more if the hero or heroine is a go-getter type (but not too much of that, too, okay?)
As for the choice of male protagonists, you know how it is when you hate a song so much that you'd rather not hear it or its name be mentioned at all but because it gets played too many times on the radio, you just can't help memorizing its lyrics? There were things I don't like about Linden but he affected me more than Gabriel did, but only because the former got much better air time so to speak. I mean how are you supposed to feel for a character that you almost know nothing about? And the times that Gabriel featured in some scenes, he didn't do anything much to capture my attention. And that kiss between him and Rhine? That was completely out of place, imo. I just didn't feel that spark between them. The only natural thing that's meant to happen in Rhine's story was for her to fall for Linden – her husband – the one who provides her with what she needs, the one who takes her to parties, the one whom she spends nights with. In short, the one whom she spends much more time with that it's only logical that she will somehow like him at the least. It was also absurd how she got away with not having sex with him. I mean, hello. He was her husband (I understand that that's how Cecily saw it that's why she slept with Linden). And nice guy that he is that he gave her time to adjust to her new circumstance, he would eventually ask that she sleep with him. It would have made a far more dramatic result had they done it. And no, it's not because I was wanting an erotica fix, but because it would have made the story more real to me. It would also support how Rhine would get conflicted over staying at the mansion with Linden or running off to an unknown future with Gabriel.
All of blogosphere is in agreement that the one true redeeming quality that this book has, aside from the gorgeous cover (which by the way, won an award for Best Cover for BBAW 2011), is Lauren DeStefano's writing. It's simply gorgeous. If there were times when I wanted to quit reading, it was her writing that reeled me back in. It's beautiful, lyrical, with an almost sweet sad melody that you can hum to. It was visually rich without necessarily being cloying. You can actually feel the oppressiveness of the mansion, the eeriness of dying so young and the hopelessness of their situation. What the book lacks in action, it more than makes up for its imagery. In its quietness, the book startles you with shifting moods and colors that somehow you end up liking it for what it is. I think Wither is not meant to be a typical dystopian novel with heroines pumping adrenaline most of the time. I believe Wither serves as a scrutiny at how easily society could manipulate people into changing their beliefs and in turn, their lifestyles. It is in this frame that DeStefano banked on her strength. To tell a story that's not only thought-provoking but essentially taboo; but with class and chutzpah, she definitely owned this one. And I'll be sure to see her star rise with her next books. Fever, the second book in The Chemical Garden series, will be out in February 2012.
Hope my review wouldn't spoil your reading experience should you decide to pick up Wither. While it's not perfect (it will leave you with too many questions and facial wrinkles from raising your eyebrow too much at some parts), DeStefano's style, on the other hand, is a literary delight.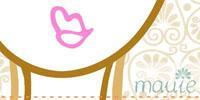 —————————————————————————
You can stalk the author on:
Her Blog –
Lauren's Blog | A Broken Violin
Twitter –
@LaurenDeStefano
Goodreads –
Lauren DeStefano on Goodreads
Formspring –
Lauren DeStefano on Formspring