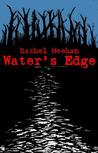 Water's Edge by Rachel Meehan
My rating: 4 of 5 stars
I was provided a copy from the author through LibraryThing in exchange for an honest and unbiased review.
The book focuses on a teenaged girl named Nairne who lives in the south of Scotland with her father, Daniel, and her elder brother Zane. They are lucky enough to have their own water supply and power (they have a wind turbine and solar panels). They grow their own food and are doing okay. Nairne's mother left them years back and has died due to a dysentery outbreak somewhere in London.
Daniel has always been wary of the effects of climate change. He moved his family to the south of Scotland because he wanted them to have a safe place to live where they can be self-reliant. Though most people, including his wife, believe he is paranoid, Daniel insists that things will change in the world for the worse because of the effects of climate change. 
As it is global warming has wreaked havoc in most countries in the world. The summers are hotter than even and the winter's are getting colder. The rain is also falling much harder and most of the cities in the UK have started flooding. People have nowhere to go and there are riots breaking out. Things are getting much worse by the day, it seems.
Nairne learns that a lot of those people fleeing the floods are coming to stay in their part of the country "temporarily" -- at least that is what they are being told. She persuades her father to volunteer a part of their home to a family looking for shelter. They had the space and they could use the extra money they can get from the rent that they will be paid.
The Unwin family move into the part of their house that they have volunteered to rent out. Garrick is a businessman who had to move out of London due to the flooding. With Garrick is his wife, Pamela, and their son Paul. Though it took a while, both families started to settle into their new routines and things were okay. However, more and more people are moving into their area, prices are going up, there are things that are becoming harder to get, and it is getting more difficult to keep the peace.
For the first time the Unwin family gets to live in a place where there is no dishwasher, television or central heating. Pamela, whose specialty is shopping, needs to learn how to cook. Paul has to get used to not having much to do as there are very few places to hang around in unlike in London. But Nairne and her family have to learn to get used to having other people being around them, too. 
Things were settling into a rhythm for both families until things suddenly change. There has been a murder and Zane and Paul are questioned. Daniel learns that things are not what they seem and is found dead afterward. Then Zane goes missing. Nairne finds that she needs to grow up faster than she ever imagined.
Water's Edge is an exciting read. It is about climate change, love, generosity, murder, and deceit. Although I found the beginning of the story rather slow going, the pace picks up and the twists and turns become much more exciting. Nairne's character is fiesty, strong, practical, smart, and cunning too.
View all my reviews
Buy the Book