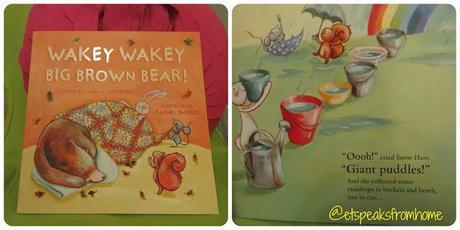 Wakey Wakey Big Brown Bear! is a book written by Tracey Corderoy and illustrated by Rachel Swirles.  It was released on 1st October 2012 and published by Parragon Book Service Ltd.
It is a paperback containing about 24 pages. The font comes in various sizes, and is simple and easy to read by young school children.  Each page is beautifully illustrated with animals.
This book is about Big Brown Bear who doesn't want to go to bed as he will miss Autumn, with its crunchy leaves, and Winter, with its sparkly snow.  His friends promise to wake him up, but nothing works!  So they come up with a plan.  This is an enchanting seasonal tale of friendship and fun!
This is very easy to read and simple to understand.  It explains the two different seasons: Autumn and Winter and things to do in each season.  It is very nice of Grey Mouse, Squirrel and Snow Hare to come up with the plan to save the crunchy leaves, rain water and a pillow to create the two seasons for Big Brown Bear.  Its also addresses the beauty of friendship.  Both my children enjoys listening to it.  I rate this book 4 stars out of 5.  It is a great book for bedtime!
Disclosure: We have received this book to do an honest review.