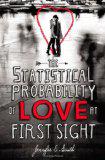 The Statistical Probability of Love at First Sight
by Jennifer E. Smith
Pages:
256
Grade:
7+ (this one is clean)
Publisher:
Poppy/Little Brown
Source:
Purchased on Kindle
Challenges:
2012 YA Contemporary Challenge
Amazon
| Goodreads
Description:
Who would have guessed that four minutes could change everything?
Today should be one of the worst days of seventeen-year-old Hadley Sullivan's life. She's stuck at JFK, late to her father's second wedding, which is taking place in London and involves a soon to be step-mother that Hadley's never even met. Then she meets the perfect boy in the airport's cramped waiting area. His name is Oliver, he's British, and he's in seat 18C. Hadley's in 18A.
Twists of fate and quirks of timing play out in this thoughtful novel about family connections, second chances and first loves. Set over a 24-hour-period, Hadley and Oliver's story will make you believe that true love finds you when you're least expecting it.
Thoughts:
I had no idea this book was really about coping with divorce and heartbreak. I picked this up expecting a cute/fun teen romance and got a very well written, thoughtful book about grief, love, and moving on.
There
is
a love story in this book and
it is
cute. Oliver is totally my kind of leading man - British, brilliant, sweet, AND funny - what's not to love? The way they met was adorable (and actually plausible) but the real depth of the story was Hadley coming to terms with her father leaving her mother (and her) for another woman. It was actually a little gut wrenching to read about.
(Minor spoiler alert) towards the end of the story, when she confronts her father and he breaks down saying, "I fell in love" - my heart totally broke. You could just feel pain and guilt. He obviously felt horrible about hurting two people he cared so deeply about, but at the same time he didn't want to shy away from this amazing thing that happened to him - it was incredibly real and honest.

This book was surprisingly deep and thoughtful. I loved it.