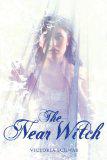 The Near Witchby Victoria Schwab
Pages: 282
Grade: 8+
Description: (from Goodreads) The Near Witch is only an old story told to frighten children.
If the wind calls at night, you must not listen. The wind is lonely, and always looking for company.
And there are no strangers in the town of Near.
These are the truths that Lexi has heard all her life.
But when an actual stranger—a boy who seems to fade like smoke—appears outside her home on the moor at night, she knows that at least one of these sayings is no longer true.
The next night, the children of Near start disappearing from their beds, and the mysterious boy falls under suspicion. Still, he insists on helping Lexi search for them. Something tells her she can trust him.
As the hunt for the children intensifies, so does Lexi's need to know—about the witch that just might be more than a bedtime story, about the wind that seems to speak through the walls at night, and about the history of this nameless boy.
Thoughts: Everyone raves about the beautiful prose that Victoria Schwab crafts in The Near Witch, and, I must say, I was not disappointed. The writing style is lyrical and descriptive. There's a sophistication and romance in the writing that isn't often found in YA (heck, it's not often found in adult anymore either). There's something incredibly old fashioned and beautiful about Victoria Schwab's words. The Near Witch is worth reading simply to study and admire the prose.
The plot was fairly simple and was old school creepy. There were some minor plot holes (insta-love for one and the violent mood swings of the villagers from "burn the witch" to "celebrate the witches as heros") but overall, it was a well crafted spooky tale. The characters were a little flat or stereotyped and I never really connected with anyone. The romance had no spark and I didn't think it was necessary at all. Lexi was an independent thinker and a honorable person, she would have helped Cole out of the goodness of her heart, they didn't need to be romantically linked for the plot to work. Lexi's relationship with her sister and her deceased father were the most compelling and they were also the least explored. Also, I kept thinking that everything was eerily similar to the M. Night Shyamalan movie, The Village.
The Near Witch was a quick and creepy read (perfect for Halloween) and the prose more than made up for any plot holes or lackluster characters. I look forward to what else Victoria Schwab has up her sleeves, she's a talented writer and I will definitely read more by her.



Quick, spooky read, lots and lots of beautiful prose, though not very memorable. 
Part of the Debut Author Challenge hosted by The Story Siren.