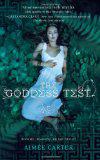 The Goddess Testby Aimee Carter
Pages: 293
Grade: 7+ (mild violence, most of which takes place "off screen", "off screen" sex is talked about and a plot point)
Description: (from Goodreads) It's always been just Kate and her mom—and her mother is dying. Her last wish? To move back to her childhood home. So Kate's going to start at a new school with no friends, no other family and the fear her mother won't live past the fall.
Then she meets Henry. Dark. Tortured. And mesmerizing. He claims to be Hades, god of the Underworld—and if she accepts his bargain, he'll keep her mother alive while Kate tries to pass seven tests.
Kate is sure he's crazy—until she sees him bring a girl back from the dead. Now saving her mother seems crazily possible. If she succeeds, she'll become Henry's future bride, and a goddess.
Thoughts: I got to page 116 and abandoned it to read something else. I only came back to it because it was on the Debut Author Challenge list and some other bloggers raved about it. Without the raves from other bloggers this would have ended up on my DNF pile. I don't regret coming back to it, the middle and end was much much better than the beginning.
I'm not a huge fan (or that knowledgable) about Greek Mythology, so I think I was at a slight disadvantage. I spent the whole book thinking that if I knew more mythology I would be enjoying it more. It felt like an intellectual exercise for the author, which sort of bugged me.
I did like Kate, I thought she was a great lead character. She was sweet and determined and not unfunny. I also liked Henry, but I never really felt connected to him so I had a difficult time investing in their relationship.
The "big surprise"/ trade at the end of the book was a bit off putting to me as well. It made everything a little too happy and too convient. Though, again, I feel like if I knew mythology more this might not feel that way to me, but I just don't know. Overall, it was a decent book and a quick read. I doubt I'll read the follow ups, but I wouldn't discourage anyone from picking this series up, especially if they're interested in mythology at all.


It's a 3, but barely. The middle and end were decent enough, but the first 100 pages did nothing for me and if it hadn't gotten such rave reviews from other people I never would have gotten to the middle/end.
The Goddess Test is part of the 2011 Debut Author Challenge.